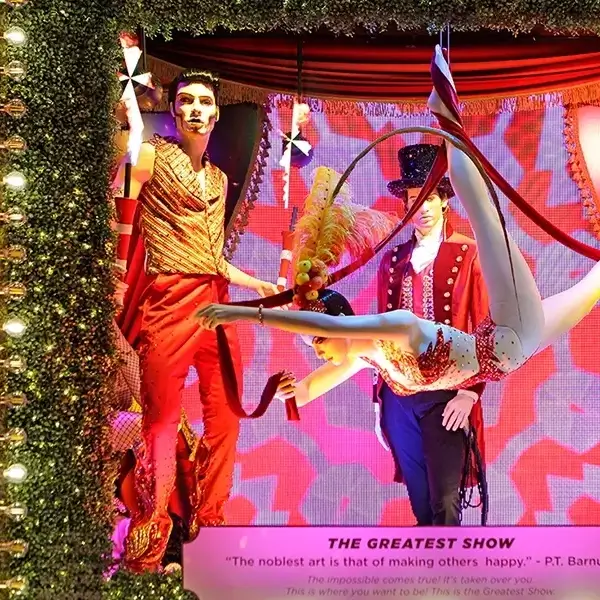 10 Best Christmas Window Displays
Christmas is great right? We absolutely love it. But for retailers globally, the Christmas period is absolutely vital in ensuring that they have a successful year both in terms of profitability and profile. Christmas window displays play a crucial role in this success. These captivating displays have become a cherished tradition and an effective marketing tool for businesses around the world. By creating imaginative and engaging scenes, retailers can capture the attention of shoppers, the attention of the media, and ultimately drive sales.
 In a highly competitive retail landscape, the art of Christmas window dressing remains a powerful tool for retailers to connect with their audience and make the holiday shopping experience truly magical. We take a look at our top 10 favourite Christmas window displays from recent years, along with drawing a little Christmas window tip that can be learned from each scheme.
Bloomingdale's, New York, USA. Christmas 2017
Theme – The Greatest Showman
Christmas Window Tip 1 – Use cultural association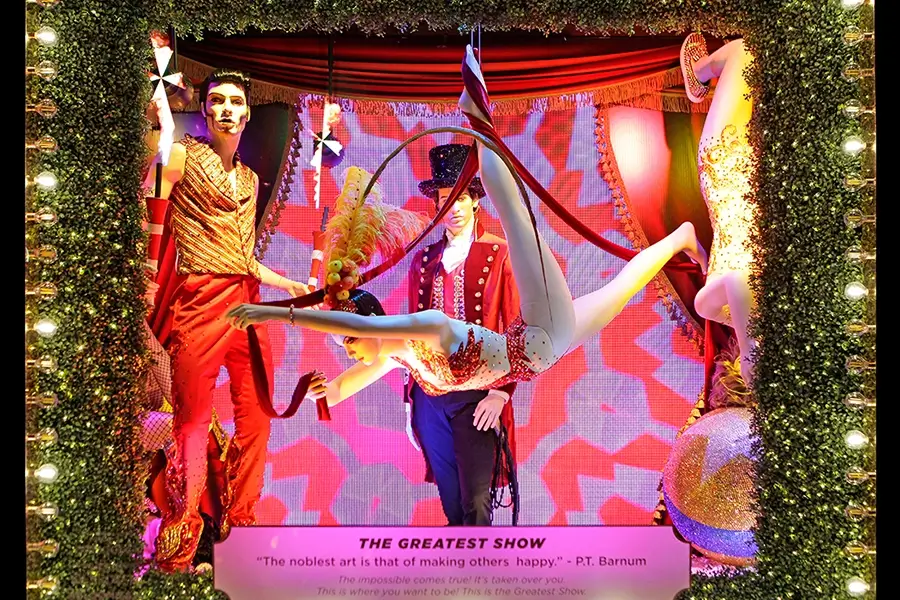 Unveiled by Zendaya in October 2017, Bloomingdale's created the most stunning windows – and with it, reams of press coverage – with their 'The Greatest Holiday Windows' theme. With Zendaya's star rising, and The Greatest Showman already having become an epic film, the retail store created the perfect windows by associating themselves with popular culture.
No fewer than 7.6million Swarovski diamonds were incorporated into the Christmas window displays, with each window being named and inspired by one of the feature films tracks including Rewrite The Stars, A Million Dreams and obviously, The Greatest Show.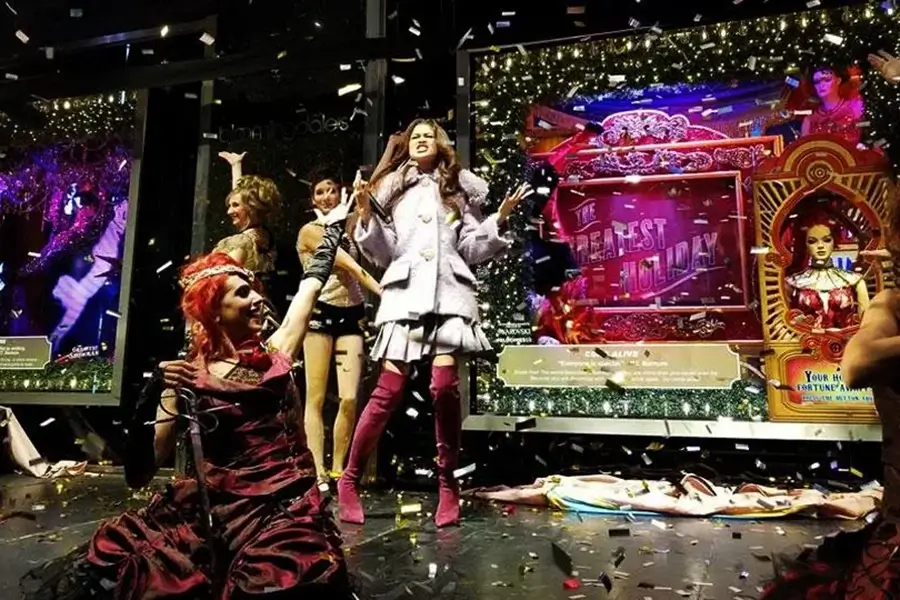 What pushed Bloomingdale's Christmas display from the 'great' to the 'outstanding' category was how they went above and beyond by incorporating interactivity. As passers-by walked up to the windows, their faces were captured on camera and their images were then incorporated into the windows themselves via the screens that were incorporated into the displays. 
Harrods, London, UK. Christmas 2013
Theme – The Christmas Express
Christmas Window Tip 2 – Stir up nostalgia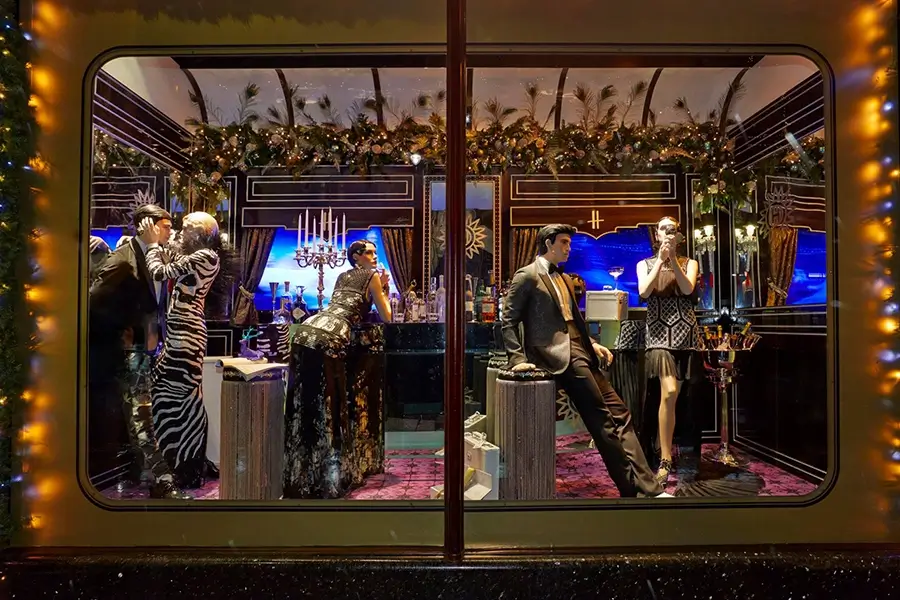 The year after London hosted the 2012 Olympic Games, the UK still had a strong sense of feelgood in 2013. The creative team at Harrods were very canny in creating a theme which rode this wave of optimism whilst stirring up nostalgic feeling of style and grandeur with their Art Deco railway Christmas window display.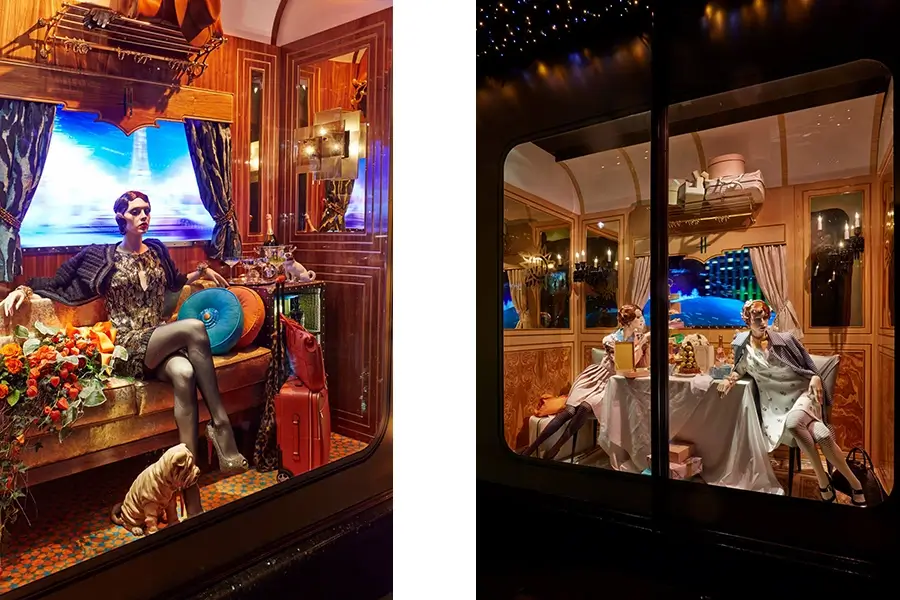 Each window portrayed a different stylish railway carriage, with the wheels being animated and a moving landscaped being created on video loop in the carriage windows, portraying a sense of movement. Not only did this bring to life the physical option of the train in motion, but it also instilled a deeper sense of movement – we're going places as a retailer. As an economy. As a nation. Brilliant stuff.
Annabels, London, UK. Christmas 2022
Theme – A Magical Carousel
Christmas Window Tip 3 – Choose a simple, visually stunning theme, that resonates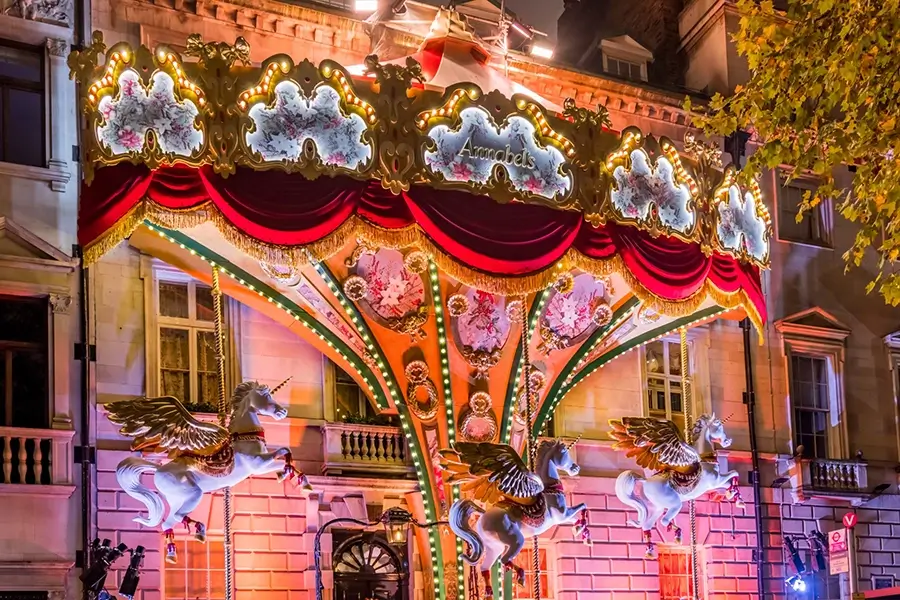 Annabel's created an utterly spell-binding window display outside the windows of this private members club in 2022. The designer, Tatiana Kharchylava, recreated the look of a real Victorian Carousel ride, complete with carousel horses that had been re-imagined as unicorns including the legendary showpiece, Pegasus. 
 Deciding on a central theme that not only captures the essence of Christmas but resonates with your own branding and your intended audience, puts you in a good position to achieve stand-out. It could be traditional, modern, whimsical, or any other concept – but it must hit home with your customers.
 Simple in idea whilst being absolutely stunning in its design and production quality, this is a Christmas window display that will inspire other retailers and designers for many years to come.
Hamleys, London, UK. Christmas 2022
Theme – Where Stories Begin
Christmas Window Tip 4 – Help passers-by to imagine
Hamleys, the children's retailer that has garnered the tagline 'the most famous toy shop in the World' has been creating iconic Christmas window displays for many years. In its flagship store on Regent Street children and their parents are transported into a world of fun – and mayhem – with toys being demonstrated left right and centre. Just as your choosing a lego set for you nephew then a dinosaur will fly over your head. You'll turn round to see where it went, only to see other children being mesmorised by a magician's disappearing card trick. This place is the stuff of dreams.
 In 2022, Hamleys asked questions of their little customers, including those such as 'Do reindeer always have to look the same?'. We think it's a brilliant scheme as it sets off conversations and debates within families, who then went on to discuss these questions with their children. 
Harvey Nichols, various stores, UK. Christmas 2020
Theme – BAH HUMBUG – Bring on 2021
Christmas Window Tip 5 – Capture the zeitgeist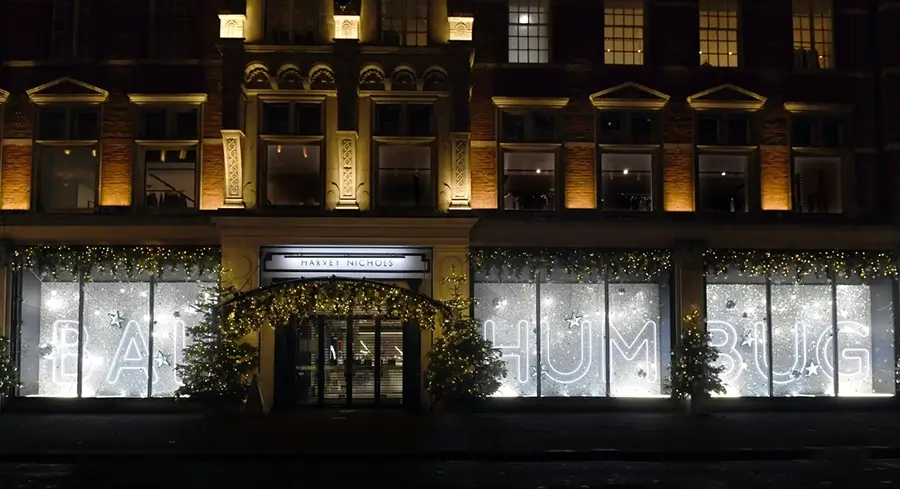 Coined by the character Ebenezer Scrooge in Charles Dickens 1843 novel 'A Christmas Carol', Scrooge used the expression to dismiss and criticise the festive spirit and traditions associated with Christmas. Scrooge is portrayed as a cold-hearted and miserly character who values wealth and profit above all else. He sees the Christmas season as a time of frivolousness, excessive spending, and sentimentalism, which he finds meaningless and wasteful. "Bah, humbug!" was his way of expressing his contempt and cynicism towards the holiday.
 And so in 2020, 9 months into the Coronavirus pandemic, Harvey Nichols saw fit to theme their Christmas window displays around this national sentiment. The UK had been placed into lockdown in March 2020, with it being lifted in the Summer only for the country to go back into lockdown over Christmas.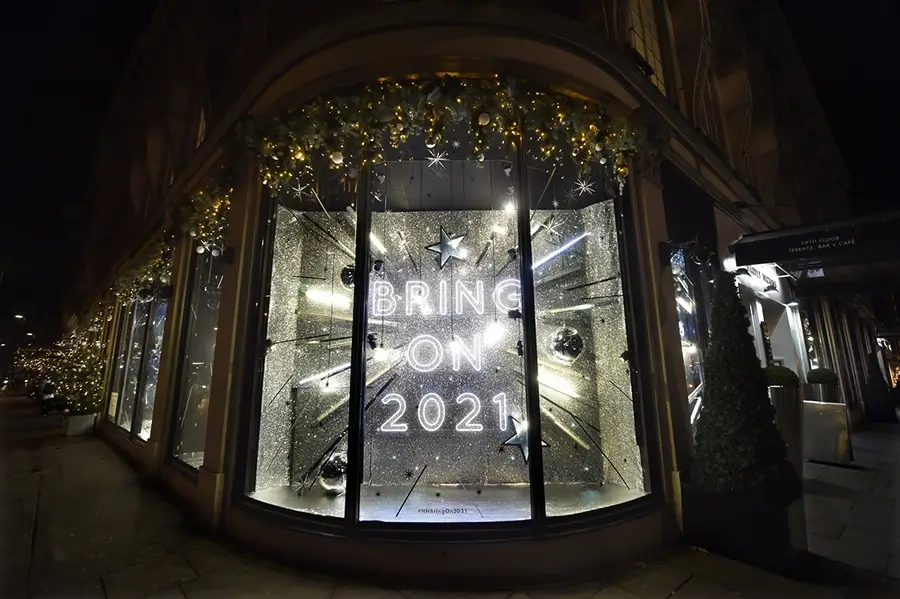 The creative team at Harvey Nichols took a brave step in designing these windows, the key element of which was the huge BAH HUMBUG Led Neon SuperFlex signage that they asked Carousel Lights to supply. And it was a decision that paid off with the windows now being seen as era-defining, and in the process, gaining significant press coverage for the renowned retailer.
Harrods, London, UK. Christmas 2022
Theme – The Fabulous World of Dior festive wonderland
Christmas Window Tip 6 – Nail a brand partnership takeover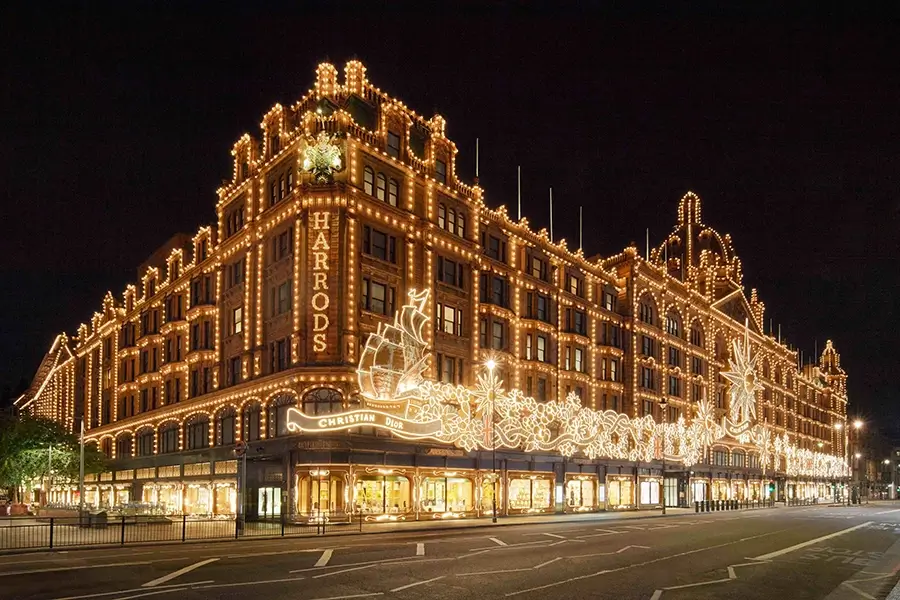 If you'll permit us for a moment, we're digressing outside our brief of Christmas window display by looking a little more broadly into Harrods complete Christmas façade. One of the most famous retailers in the World has huge frontage on London's Brompton Road, and one which Harrods completely owns in the brand sense of the term.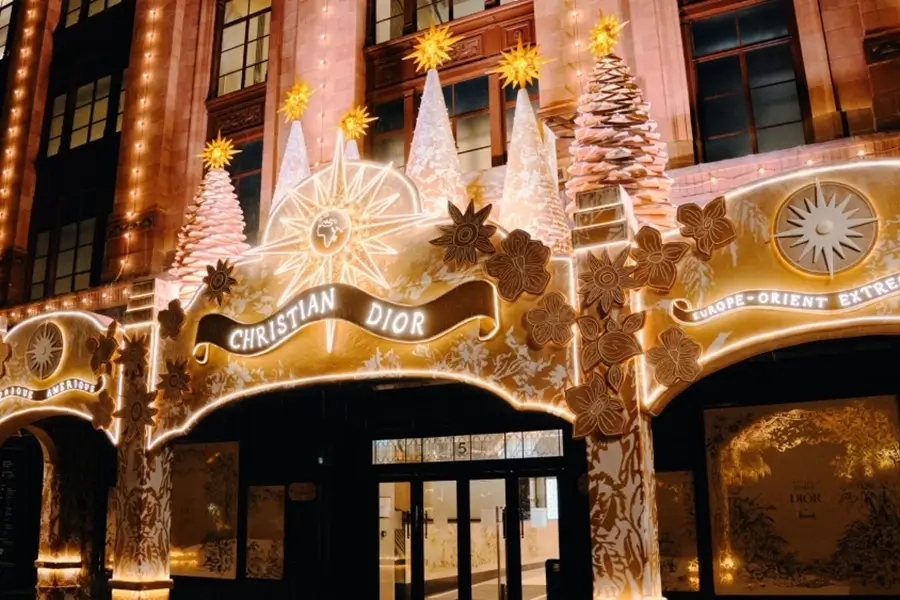 In 2022, Harrods partnered with Dior – a brand match made in heaven – to create a festive wonderland. Externally on the façade, Dior details were all mapped out and producing using illuminated signage, with elements being created by the artist Pietro Ruffo. Once inside, visitors were greeted by a jaw-droppingly cool gingerbread house, with the brand partnership continuing within the store. "A fervent admirer of England, from 1953 Christian Dior developed a powerful and unbreakable bond with Harrods, London's epicentre of British elegance," the fashion house commented.
SAKS 5th Avenue, New York City, USA. Christmas 2019
Theme – Frozen
Christmas Window Tip 7 – Attract the kids and the adults will follow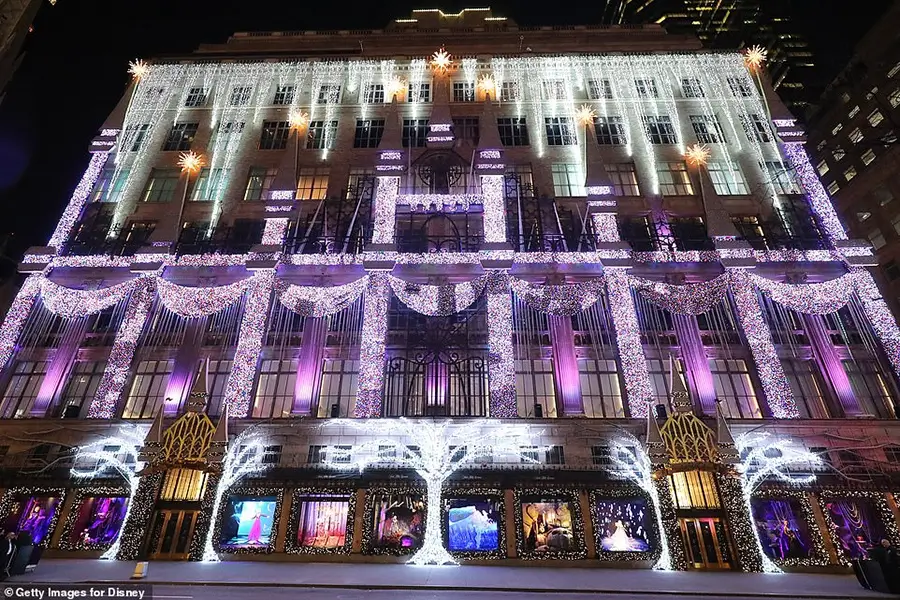 Set to a soundtrack of Frozen songs each night the Saks Fifth Avenue windows would come to life. The snow-white and ice-blue lights would twinkle in time with the music, creating a stunning store frontage of icicles and snowscapes. With the different Frozen characters all playing a role, children and their adults could expect to see Olaf, Anna and Elsa, although it's fair to say that as ever, Elsa played the staring role.
 A 50-voice choir performed at the unveiling of the windows, along with Idina Menzel, star of Frozen 2. A sure-fire way of all but guaranteeing that your windows will be featured in the national press.
Fortnum & Mason, London, UK. Christmas 2015
Theme – A traditional Christmas
Christmas Window Tip 8 – It's difficult to beat Traditional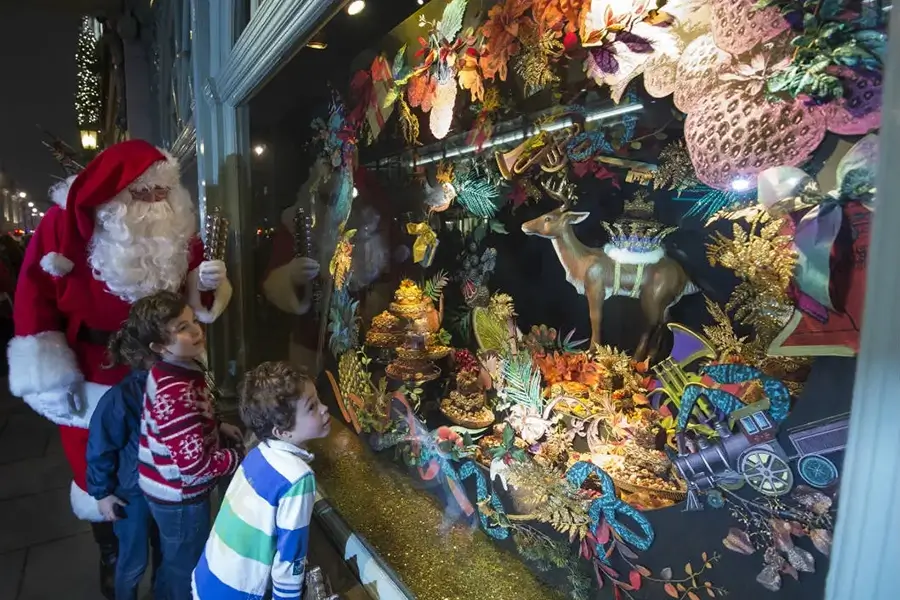 London's famous Fortnum and Mason are as famous for their Christmas window displays as they are for the dizzying breadth and quality of their product range.
 'If you're going to do something, then do it well' could easily be Fortnum and Mason's brand positioning statement, but it could equally apply to the quality for their window displays. In 2015 they went with a traditional scene, which can often be advantageous if you're competitors opt for more obscure themes – especially when attracting the attention of tourist to London.
Their windows featured reindeer, instruments and festive fayre, having been created by Kristjana Williams – the illustrator with whom Fortnum and Mason had collaborated.
Macy's, New York, USA. Christmas 2019
Theme – Believe in the Wonder
Christmas Window Tip 8 – Draw on your silver screen legacy (if you can)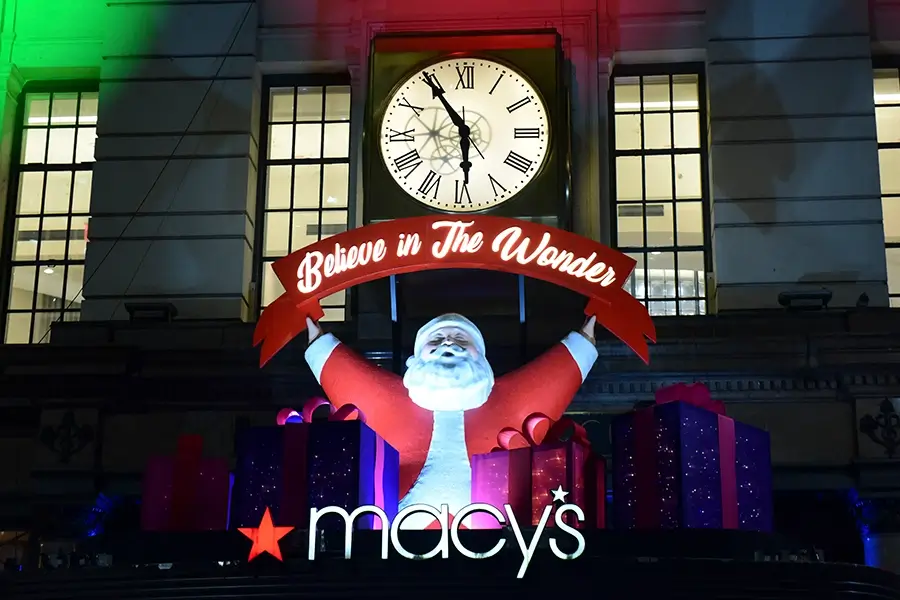 Designed by Roya Sullivan, Macy's Christmas window displays told the story of Santa Girl and she embarks on her journey to be more like Santa Claus. Once Thanksgiving has come and gone, Macy's take only a couple of days to create their Christmas windows. Their windows are always considered iconic, in no small part due to the fact that the Miracle on 34th Street was filmed on location at Macy's flagship store on Broadway in Manhattan, New York.
The 2019 windows featured interactive animated installations that enabled visiting children to really immerse themselves in Christmas, and feel first-hand how it may be to emulate Santa Claus.
Liberty, London, UK. Christmas 2020
Theme – Delivering Christmas
Christmas Window Tip 9 – Focus on the magic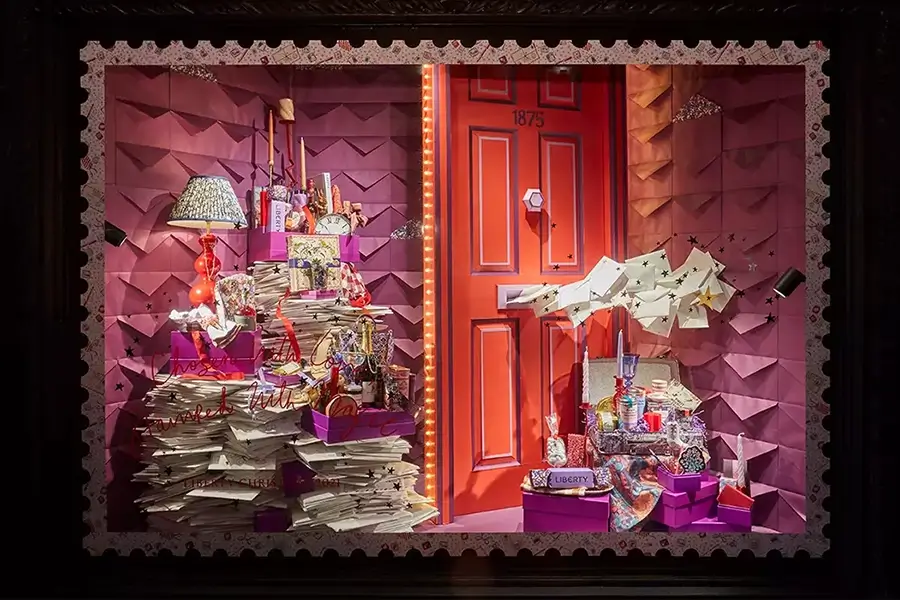 The team at Liberty London, led by Hannah Perse-Cottle, focussed on the magic of sending and receiving letters and gifts. Starting with a postbox, drawing on the history and tradition of the UK's Royal Mail, 35,000 letters started their journey through the windows by starting at a post box. Cogs and machinery brought the whole scheme to life, with magical gifts such as teddy bears being sent on their way. 
Selfridges, London, UK. Christmas 2021
Theme – Christmas of Dreams
Christmas Window Tip 10 – Build your brand whilst inspiring purchases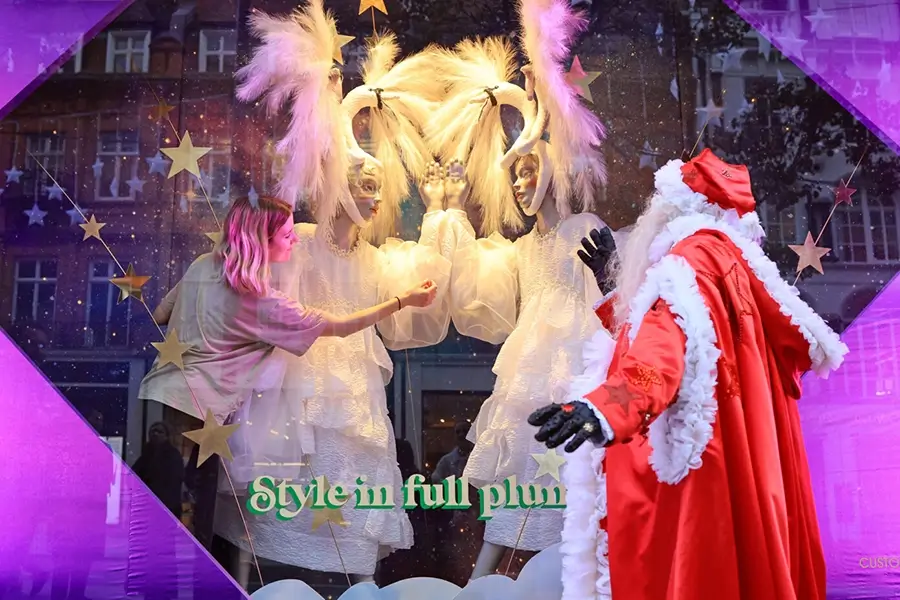 In 2021 leading UK retailer Selfridges cleverly created a multi-media campaign that incorporated its window displays alongside other media channels. Blending creative influence from the 1930's through to the technicolour 1950's, Jane Horrocks starred in a video that was created to work alongside the window display. Selfridges were smartly focussed on the need to balance brand-building alongside the desire to make a purchase, with the campaign introducing a sense of excitement to Christmas gift-buying.