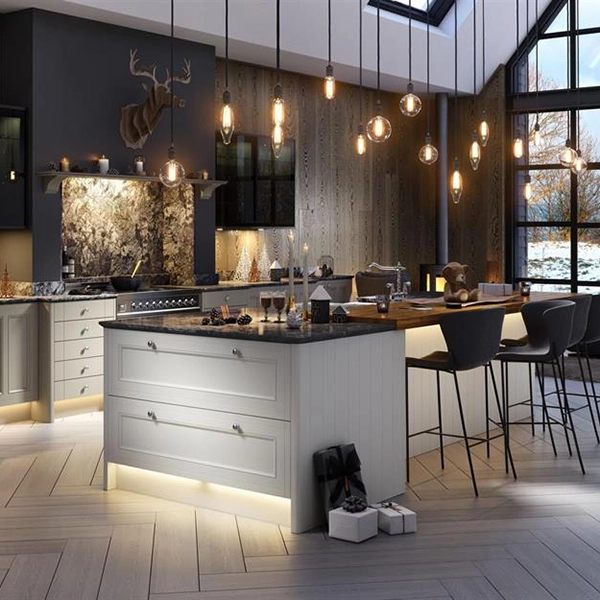 16 Lighting Ideas for your Kitchen
The kitchen is the heart of every home. It's the space where the family gets together to watch Mum and Dad's culinary magic unfold. It can be a bustling place before school time for young families, and a more relaxing space for entertaining for adults. Memories are created in the kitchen and nothing sets the tone of the room better than the lighting scheme.
We often get asked for lighting ideas for our clients kitchens, so this article pulls together all of our expert thoughts into one go-to place for all of the Designers, Architects, Contractors and Homeowners that we work with.
A well-lit kitchen not only enhances functionality but also adds ambiance. With a myriad of lighting options available today, creating the perfect lighting scheme for your kitchen can seem like a daunting task. However, with a blend of creativity and practicality, you can illuminate your kitchen in a way that complements its design and meets your practical needs. Let's explore various lighting ideas to help you revamp your kitchen space. Here are our top 20 ideas for lighting your kitchen
1. Understand your natural Light
Start your lighting scheme by understanding the natural light that you have. The use of this should be maximised as it will create the most beautiful light in your kitchen. Think about where the sun rise and sets. Look at the shadows that the sun casts. Does the sun reflect off any surfaces such as glossy kitchen units? This will then mean you may need to add blinds, which in turn, will mean you may need to illuminate certain areas of the kitchen at certain times of day.
Image: Houzz
2. Include a decorative Statement Light
You need a talking point and a custom feature light will be it. There are a handful of renowned lighting companies in the UK, such as ourselves, who you can easily commission a bespoke light from. They're no more expensive than a sofa but add infinitely more atmosphere and prestige to your home. Sophie Ellis-Bextor commissioned us to create this 'Family' neon and fairground light for her Kitchen in London, inspired by the tattoo on her arm. Your design inspiration can come from a family phrase, hobby or music lyrics that inspire you. The colour scheme needs to compliment the rest of your kitchen, but your chosen signmaker will advise on that.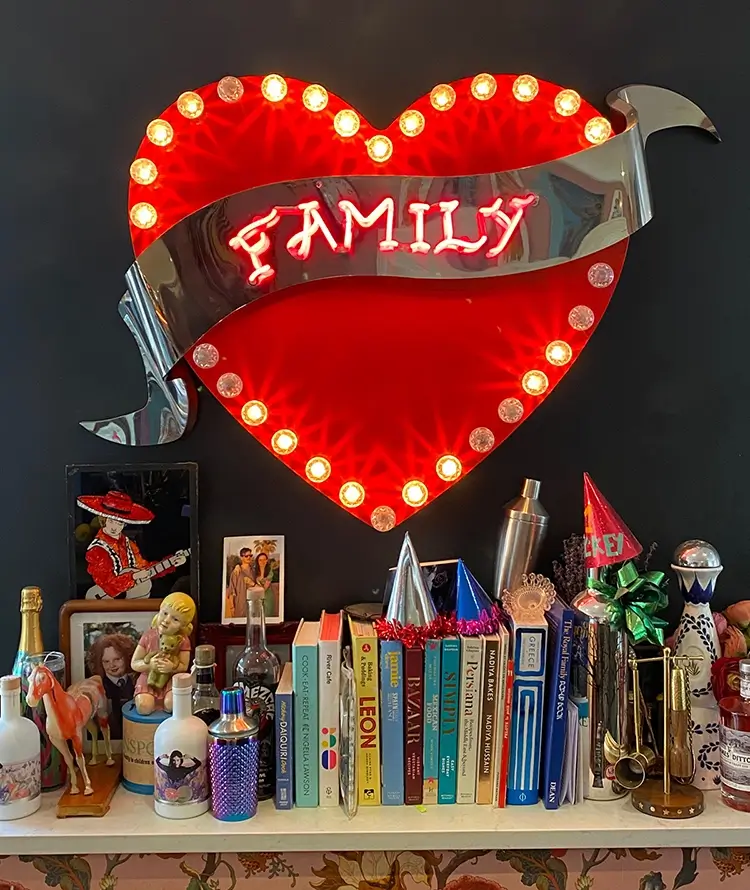 Sophie Ellis-Bextor's 'Family' neon. Sign by Carousel Lights.
image – Sophie Robinson
3. Pendant Lights for Style and Focus
Pendant lights not only serve as a functional light source but also add an element of style and visual interest to your kitchen. Hang pendant lights over the kitchen island or dining area to create a focal point and add a touch of elegance to the overall design.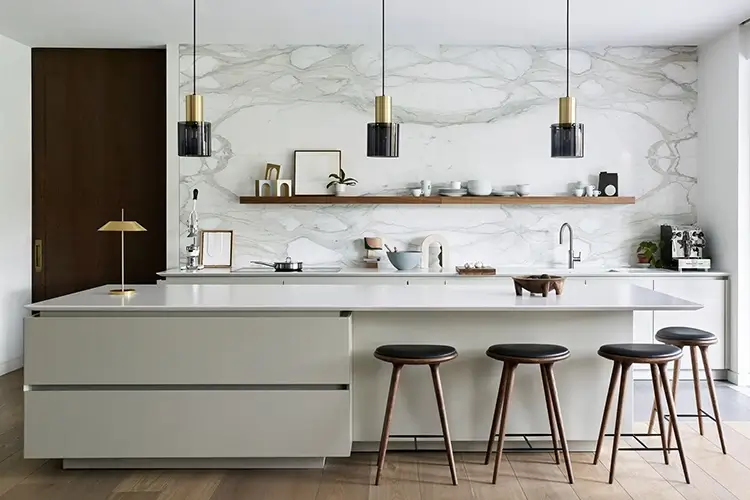 Image: Living Etc
4. Chandeliers for Elegance
Incorporate a chandelier to infuse a sense of grandeur and sophistication into your kitchen. Chandeliers can be a stunning addition above a kitchen island or dining table, providing both ambient and decorative lighting that elevates the overall aesthetic appeal of the room.

5. Track Lighting for Versatility
Install track lighting to provide flexibility in directing light to specific areas of the kitchen. This adjustable lighting option allows you to highlight artwork, decorative pieces, or specific kitchen features, enhancing the overall visual appeal of the space.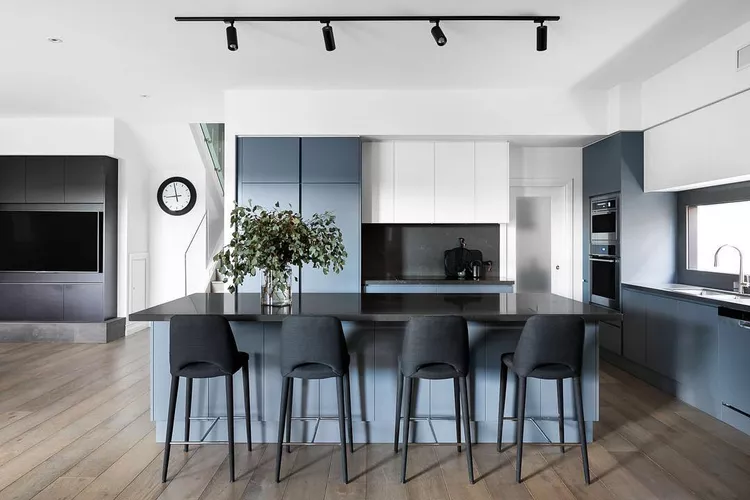 6. Wall Sconces for a Warm Glow
Install wall sconces to create a cozy and inviting atmosphere in your kitchen. These fixtures not only offer additional lighting but also contribute to the overall decor, providing a warm and welcoming ambiance that makes your kitchen feel like the heart of your home.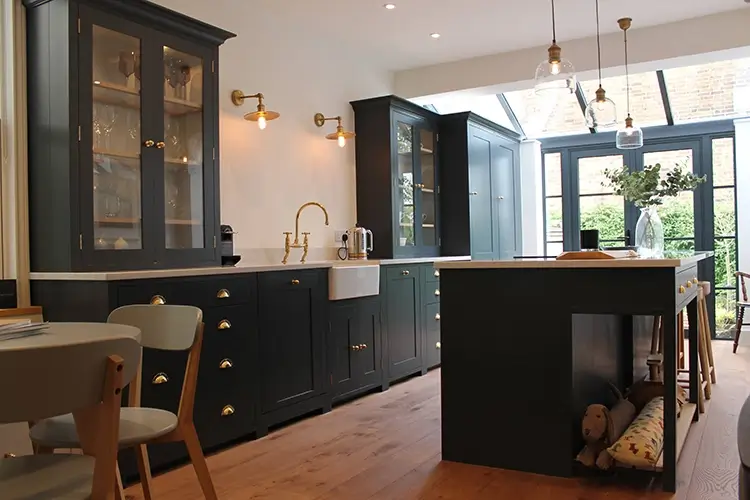 Image: Houzz
7. Include Recessed Lighting for Overall Illumination
Recessed lighting, also known as downlights, are a popular choice for providing general illumination. Strategically placed recessed lights can evenly distribute light throughout the kitchen, eliminating shadows and creating a spacious, well-lit environment. Make sure you choose dimmable LEDs to ensure that your energy usage is kept to a minimum.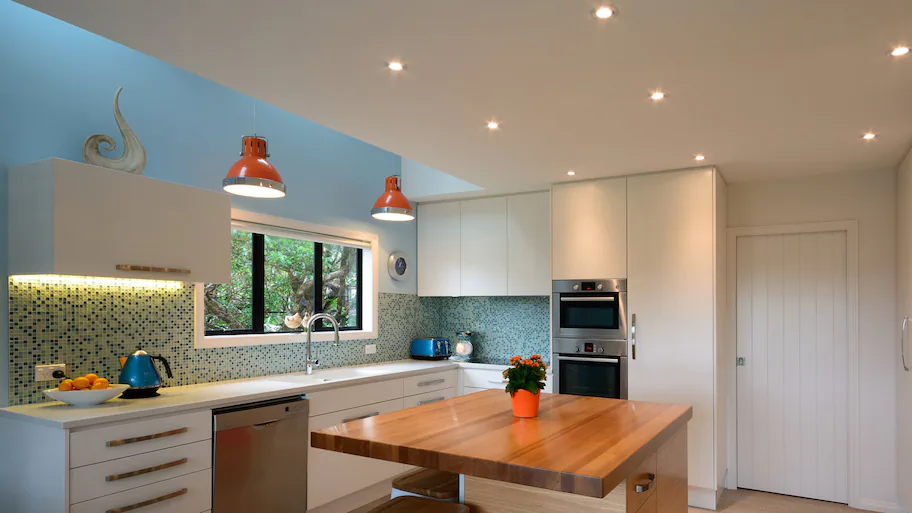 8. Under-Cabinet Lighting
To brighten up your countertop workspace and provide task lighting for cooking and food preparation, install under-cabinet lighting. LED strips or puck lights can be discreetly fitted beneath cabinets, providing focused illumination without causing glare.
9. Cove Lighting for a Subtle Glow
Implement cove lighting to create a soft, ambient glow that highlights the architectural features of your kitchen. Concealed behind ledges or recesses, cove lighting offers a subtle and indirect illumination option that adds a warm and inviting atmosphere to the space.
10. On-cabinet lighting
Over-cabinet lighting is a brilliant way to make lower kitchens seem higher, which can often be desirable when your kitchen is part of a single storey extension. On-cabinet lighting is very cost effective a a brilliant way to add colour and light to the higher part of your walls.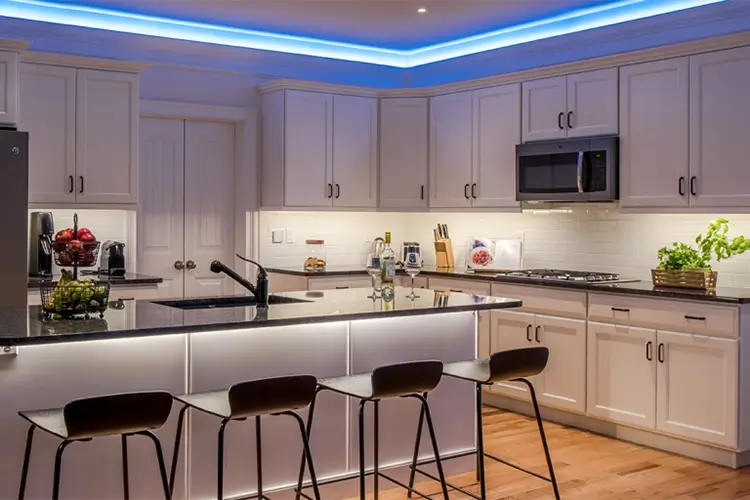 Image: Loxone
11. Dimmers for Mood Enhancement
Integrate dimmer switches to control the intensity of your kitchen lighting. Dimmers offer the flexibility to adjust the brightness according to the time of day or the mood you want to create, allowing you to transition seamlessly from bright task lighting to a more intimate, relaxed ambiance.
12. Accent Lighting for Aesthetic Enhancement
Utilise accent lighting to showcase architectural elements, artwork, or decorative pieces within your kitchen. By strategically placing accent lights, you can draw attention to particular features and add a layer of visual interest that enhances the overall aesthetics of your kitchen.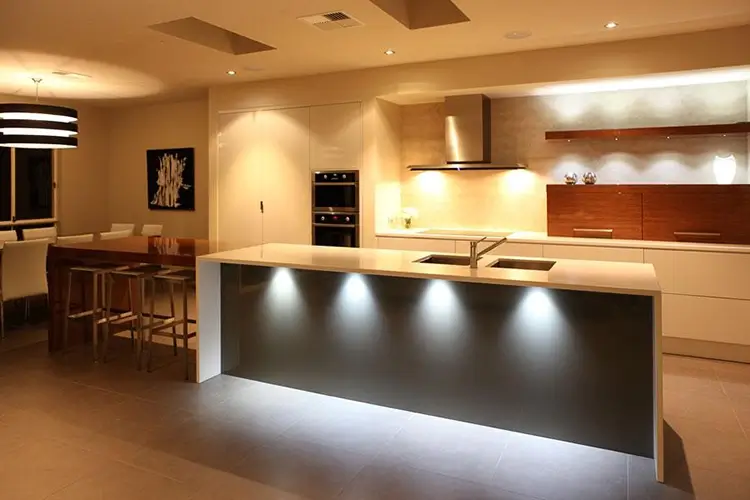 13. LED Lighting for Energy Efficiency
Embrace energy-efficient LED lighting to reduce electricity consumption and minimise your carbon footprint. LED lights are available in various colour temperatures, allowing you to customise the ambiance of your kitchen while enjoying long-lasting, cost-effective illumination.
14. Task Lighting for Specific Work Areas
Incorporate task lighting in specific work areas such as above the sink, stove, or kitchen counter. Task lighting ensures that you have ample brightness to carry out detailed tasks effectively, preventing eye strain and making your culinary endeavours more enjoyable.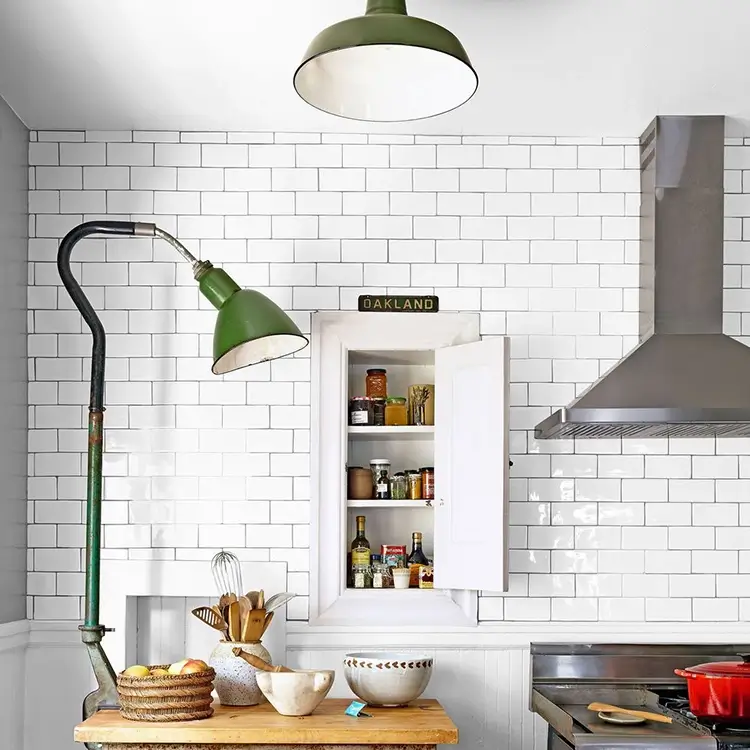 15. Smart Lighting Control Systems
Invest in smart lighting control systems that allow you to adjust and customise your kitchen lighting using a smartphone or voice commands. With features such as automated scheduling, colour changing capabilities, and remote accessibility, smart lighting offers convenience, efficiency, and a modern touch to your kitchen.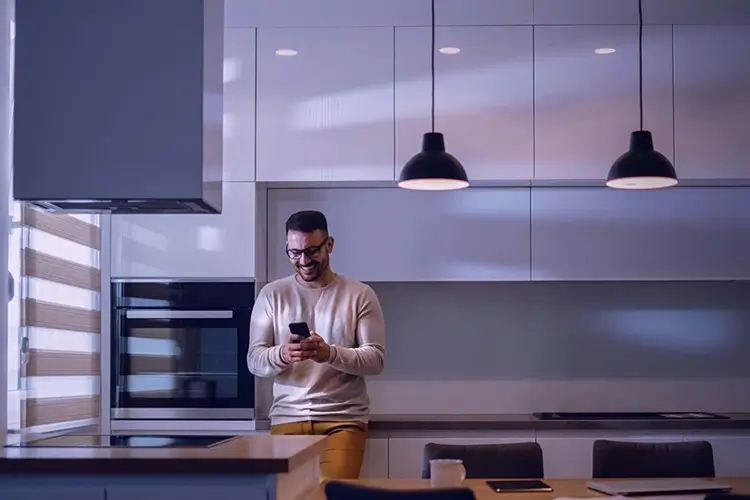 Image: Rako
16. Statement Lamps for a Personal Touch
Introduce statement lamps on kitchen shelves or countertops to add a personal touch to the space. Opt for stylish and unique lamp designs that reflect your personality and style, infusing your kitchen with a warm, inviting glow that resonates with your individuality.
A well-planned and thoughtfully executed lighting scheme can transform your kitchen into a functional, inviting, and visually stunning space. By incorporating a combination of natural light, ambient lighting, task lighting, and decorative fixtures, you can create a kitchen that not only meets your practical needs but also reflects your unique style and personality. Embrace the diverse lighting ideas mentioned above, and let your kitchen shine as the true heart of your home.