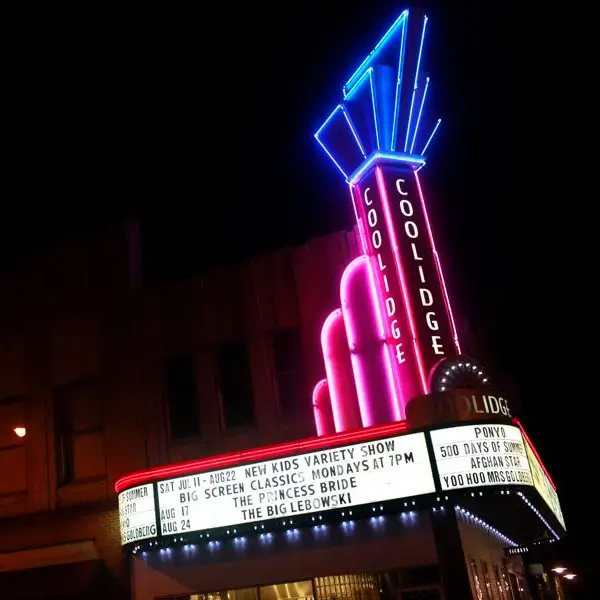 10 Cool Cinema Signs
A visit to the cinema is always a period of escapism – whether you're there to enjoy the latest rom com and you're doing you're best to make sure you can't get a good night's sleep by watching the latest Horror film. Whatever the case, one of the first things you'll see when you arrive at the cinema is the its sign sitting proudly on top of, or on the front of, the building. And subconsciously, that sign is setting the tone for the experience you're about to receive.
So let's take a look at what we think are 10 of the coolest cinema signs that we've seen.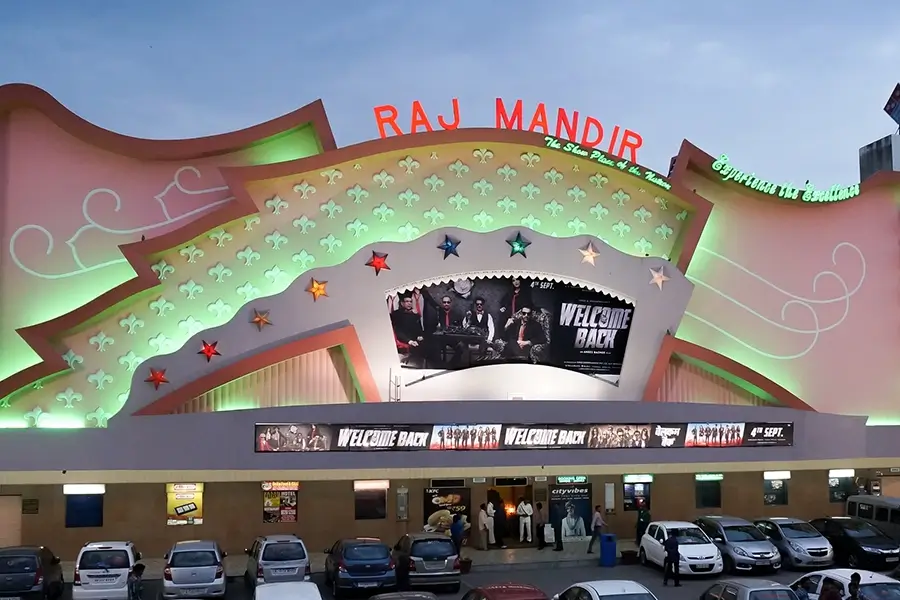 Raj Mandir Theatre – Jaipur, India
Opening in 1976, The Raj Mandir Theatre stand proudly with it's simple sans-serif cinema sign design. With its illuminated lights and elegant typography, the sign exudes a regal charm, capturing the attention of all who pass by. It stands as a symbol of the Raj Mandir Theatre's grandeur and its commitment to delivering a truly magical movie experience. The Raj Mandir Theatre sign is a sight to behold, embodying the spirit of Jaipur's cinematic splendor.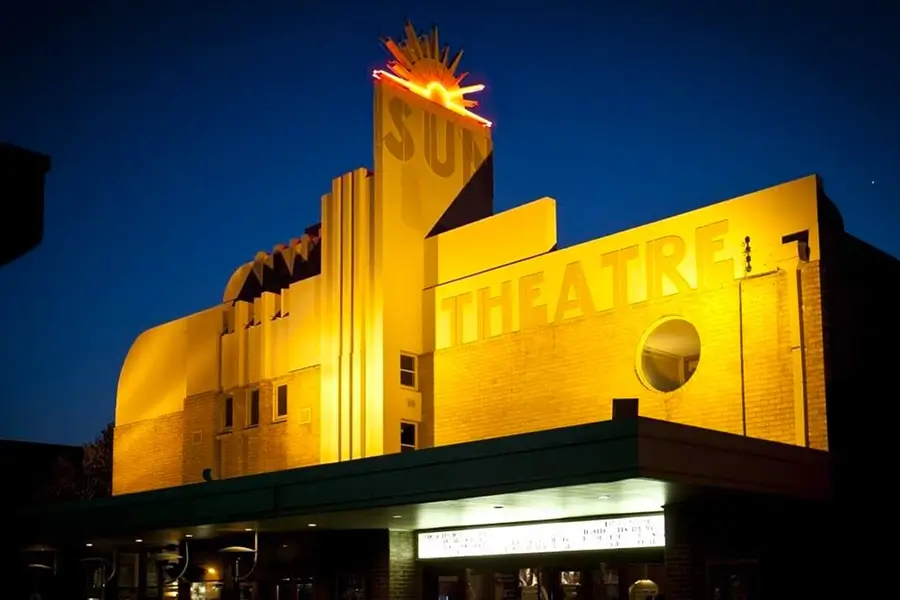 Sun Movie Theatre – Melbourne, Australia
The Sun Movie Theatre opened in the 1930's as a single-screen cinema but declined in popularity in the 1950's eventually sitting empty for 20 years. It was brought back to life by its current owners in 1995 and has since gone from strength to strength. The Sun Movie Theatre sign in Melbourne is a striking and captivating feature that commands attention. Located in the heart of the city, this iconic sign stands tall with its vibrant neon lights that illuminate the night sky. The sign proudly displays the name "Sun Movie Theatre" in bold and eye-catching lettering, evoking a sense of nostalgia and excitement. The Sun Movie Theatre sign is not just a sign; it symbolises the theatre's rich history and commitment to providing an immersive and memorable movie-going experience in Melbourne.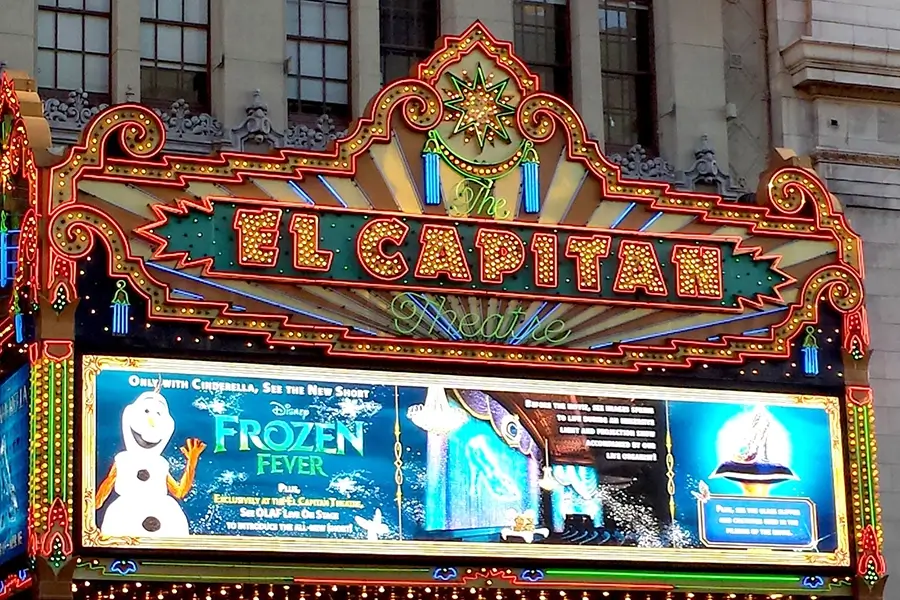 El Capitan Theatre – Los Angeles, USA
El Capitan Theatre sits on Hollywood Blvd, and being owned by The Walt Disney Company, is used for the world premieres of Walt Disney Studios' feature films. Standing tall and adorned with dazzling fairground lights, the El Capitan cinema sign is an iconic sight that is full of old Hollywood charm. With its bold lettering and classic design, it serves as a beacon, drawing moviegoers and tourists alike to experience the magic within its walls. The sign is a symbol of the theatre's rich history and its commitment to showcasing beloved films in a luxurious setting. The El Capitan cinema sign is a testament to Hollywood's allure and a must-see landmark for cinema enthusiasts.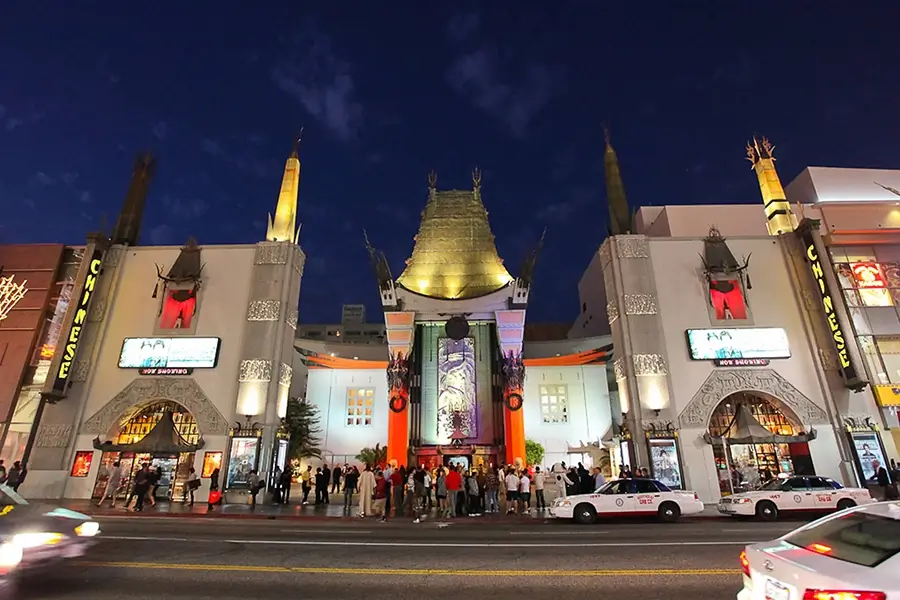 Grauman's Chinese Theatre – Los Angeles, USA
Another Hollywood gem, but this time located on the Hollywood Walk of Fame, Grauman's Chinese Theatre sign has a well-recognised oriental font style text detailing the word 'Chinese'. This is illuminated through a perpendicular lightbox style of sign with the lightsource being located behind a yellow translucent lettering and the text running down in a vertical layout.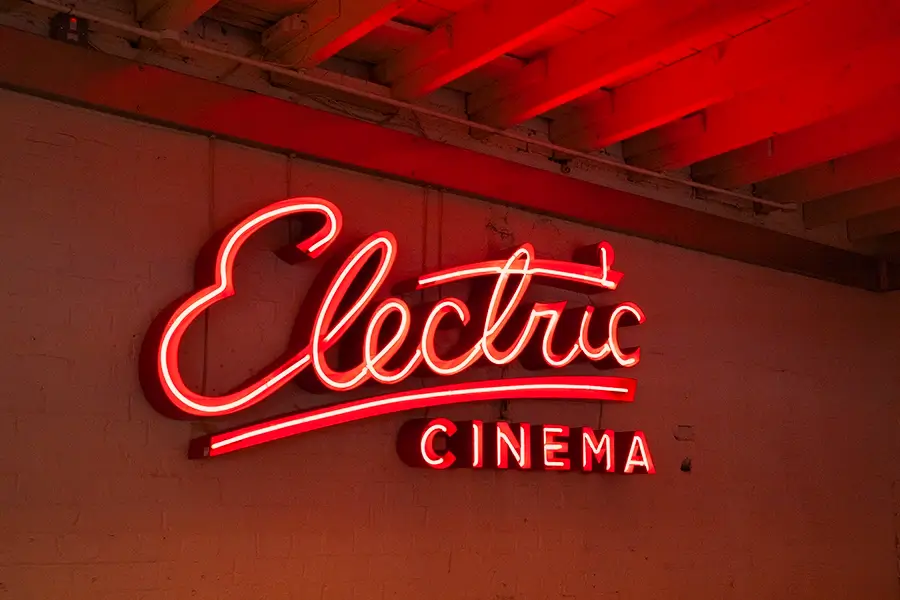 Electric Cinema – Notting Hill, UK
The Electric Cinema in Notting Hill is an iconic landmark that exudes a captivating blend of vintage charm and contemporary luxury. With its rich history dating back to 1910, it stands as one of London's oldest working cinemas. Stepping inside, customers are greeted by a nostalgic ambiance, highlighted by plush velvet seating, cozy sofas, and a grand chandelier. The cinema offers a unique cinematic experience with its carefully curated film selection, including art-house films, classics, and new releases. Alongside the screening, guests can indulge in a variety of snacks and drinks, all delivered straight to their seats. The Electric Cinema in Notting Hill is a timeless gem that continues to captivate moviegoers with its timeless allure. You can see how we made the Electric Cinema sign in this case study.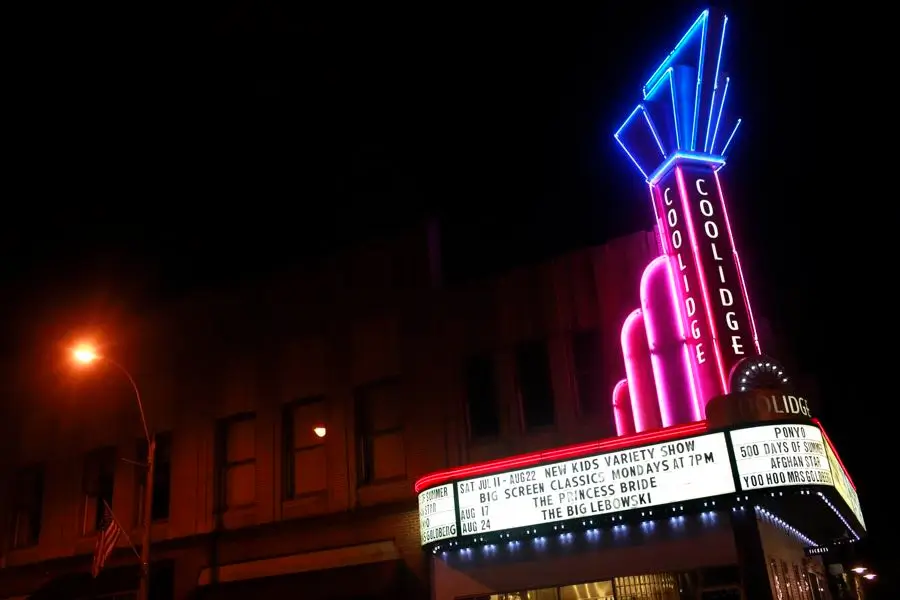 Coolidge Corner Theatre – Massachusetts, USA
The Coolidge Corner Theatre is an extraordinary gem nestled in the heart of Brookline, Massachusetts. Stepping inside this historic cinema is like being transported to a bygone era of movie magic and community engagement. Built in 1933, the Coolidge Corner Theatre retains its classic charm with its art-deco architecture, vintage marquee, and stunning interior decor. Standing tall and proud, the sign beckons passers-by with its vibrant colours and vintage charm. With its bold and retro lettering, it evokes a sense of classic Hollywood glamour and a bygone era of cinema. Illuminated against the night sky, the sign acts as a beacon, drawing moviegoers and enthusiasts to the theater's doors. Its timeless design has become a beloved symbol of the Coolidge Corner Theatre, representing its rich history and commitment to showcasing unique and diverse films. Whether it's a classic movie night or a thought-provoking indie screening, the sign serves as a reminder that inside those doors awaits a world of cinematic wonders. The Coolidge Corner Theatre sign is an emblem of the theatre coolness and its role in preserving the magic of cinema.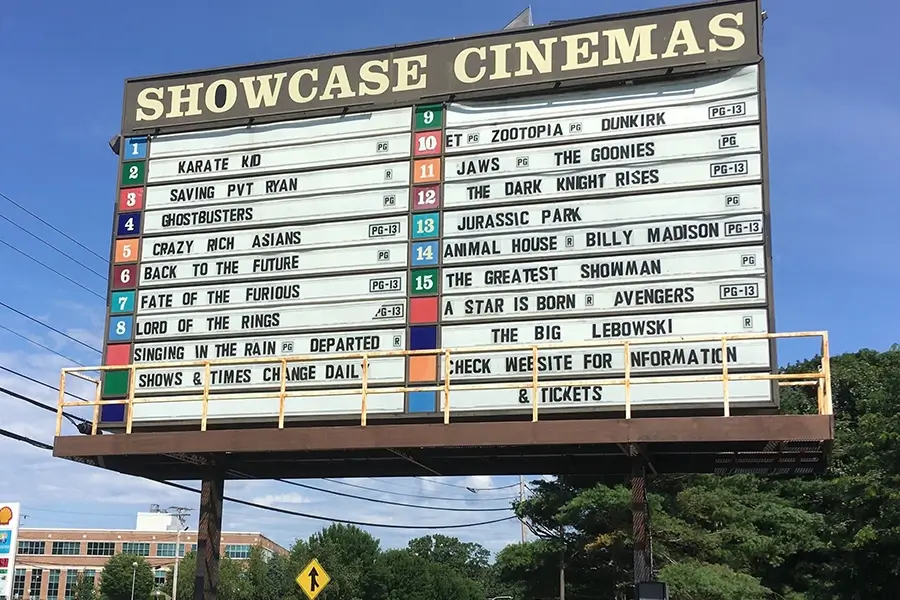 Showcase Cinema – various locations
A bit of a personal one this, having grown up close to the Showcase Cinema in Peterborough, UK. Even though the style and design of the sign itself is far from iconic, Showcase used them to create a very functional wayfinding and marketing purpose of constantly updating the titles that were showing on each screen. Whenever we see a photograph of one of these signs then it brings back brilliant memories of childhood visits to the cinema to see Ghostbusters.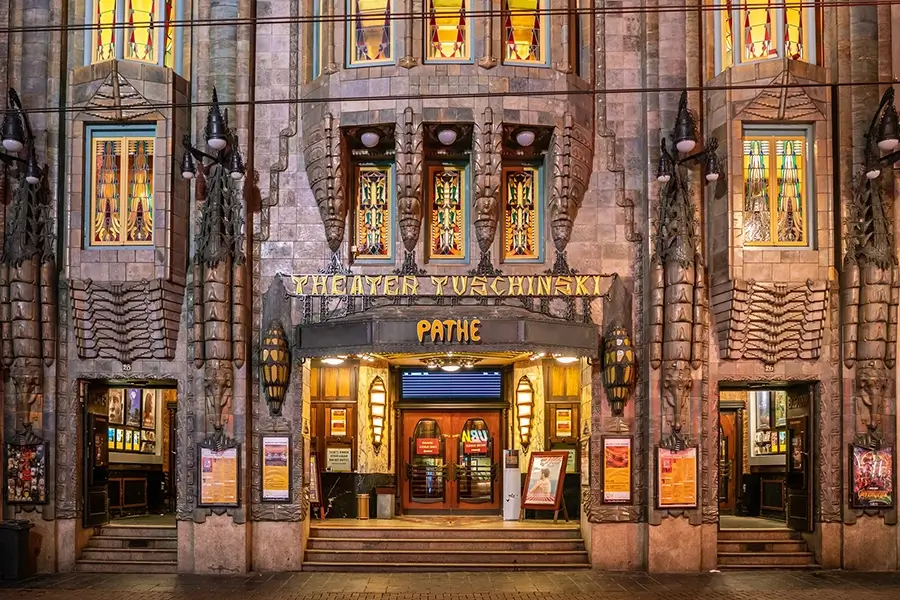 Tuschinski Movie Theatre Sign – Amstrdam, Netherlands
The Koninklijk Theater Tuschinski was constructed over a decade ago in 1919. is a magnificent Art Deco masterpiece that is known for its breathtaking cinema sign. The Tuschinski sign is a visual marvel, featuring intricate detailing, vibrant colors, and elegant typography that perfectly captures the essence of the theater. The Tuschinski sign embodies the glamour and elegance of a bygone era, inviting cinephiles to step into a world of cinematic enchantment as they enter this iconic Amsterdam landmark.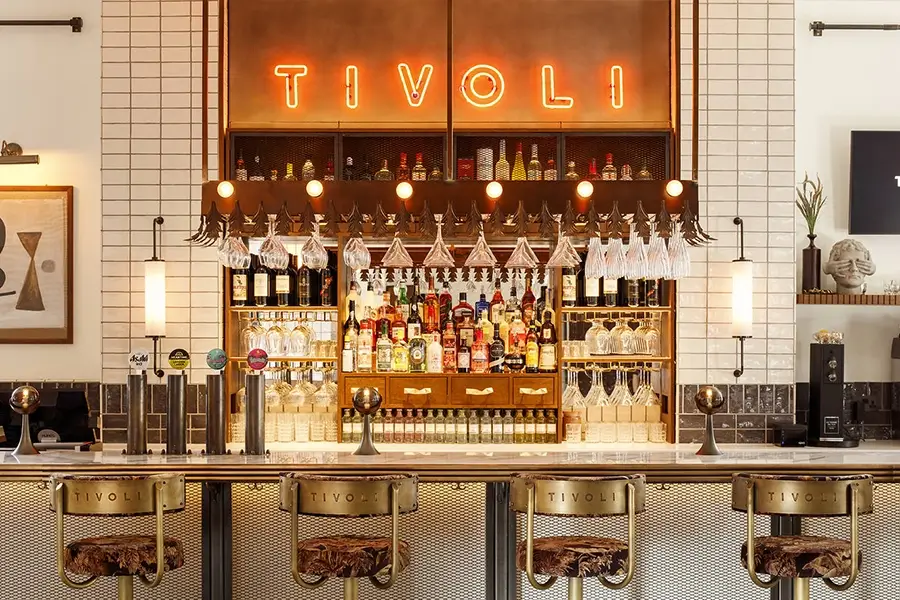 Tivoli Cinema – Bath, UK
Arguably one of the most stylish cinemas in the UK, the Tivoli cinema sign is understated in its style and elegance, consisting of just real glass neon following the perimeter of the uppercase sans serif TIVOLI font. Set within a deco design theme, this is an example of signage simplicity at its absolute best.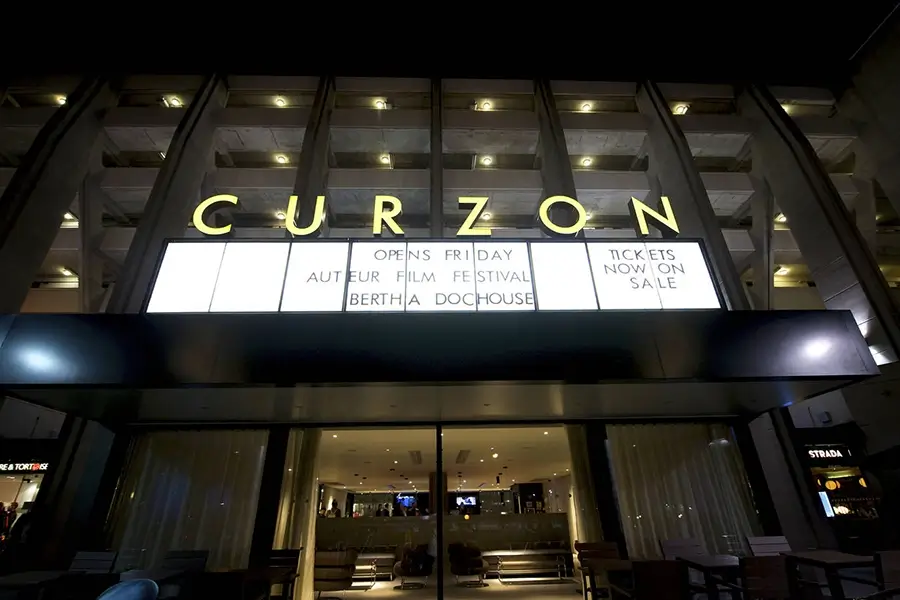 Curzon Cinema – London, UK
Established in 1934 by Harold Winton who had kept himself busy importing movies in the post World War 1 period. CURZON is created in an architectural signage style with the large individual built-up letters being produced from fret-cut powdercoated steel. An opal acrylic face is put on each letter and the letters are internally illuminated with LEDs. Underneath the word Curzon, an absolutely classic white cinema sign lightbox enables the operator to user interchangeable black acrylic letters