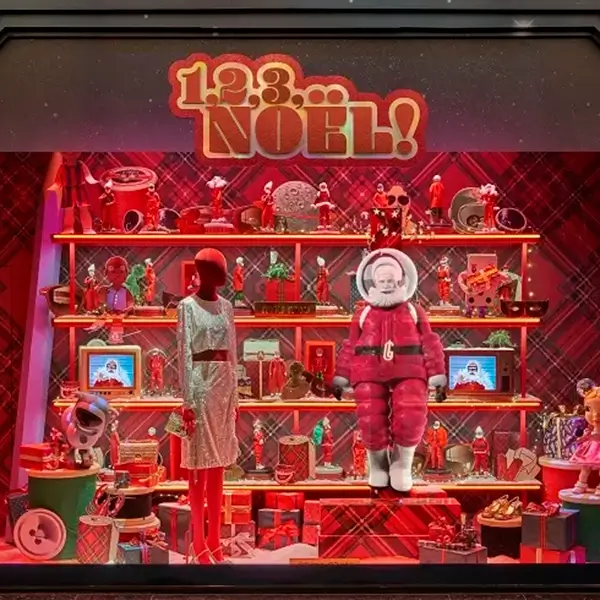 Top tips for creating the perfect Christmas window display
We've worked with – and produced lighting and signage for – many of the World's most famous retailers and their Visual Merchandising and Display agencies. In fact, if you're based in the UK then you may well have seen and met us exhibiting at the VM & Display show in London. We think it's therefore fair to say that over the last decade we've accumulated a lot of knowledge about how to make your windows work hard for you over Christmas. As such, here are our top tips for creating brilliant Christmas window displays.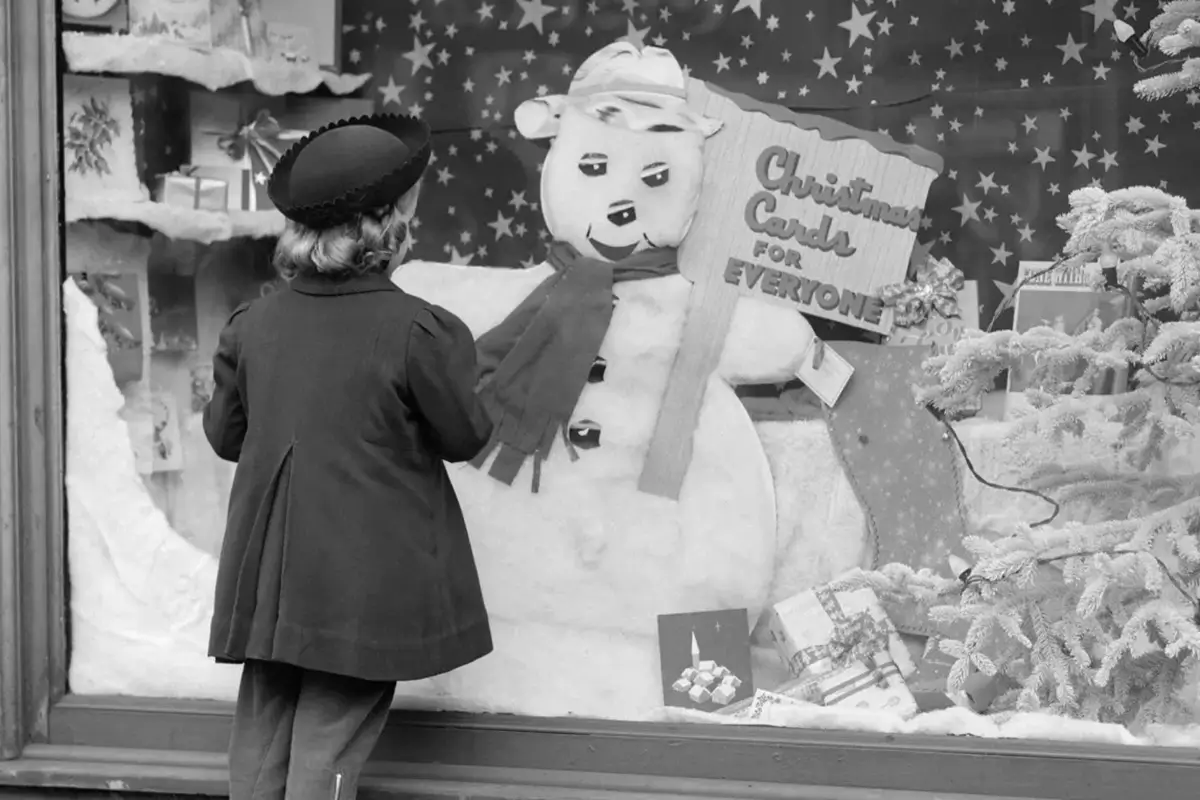 Is Christmas actually an important time for retailers?
Briefly, before we get stuck into exciting hints and tips, let's just have a quick look at this data showing retail sales by month (in million GBP) in the UK from 2017 to 2022. This graph from Statista, shows just how important the Christmas period is for retailers, with retail sales rising through each calendar year to then significantly spike in December.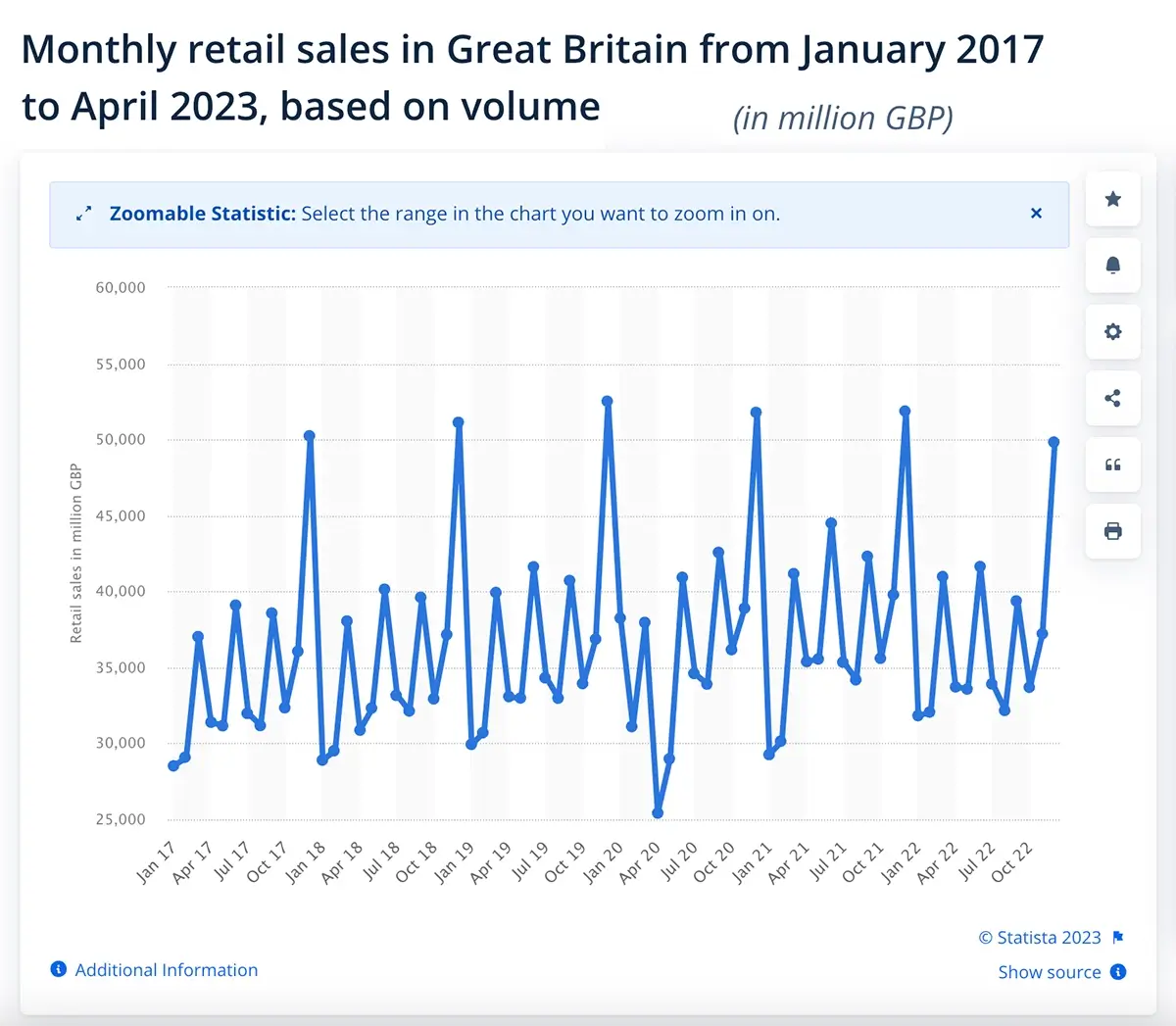 In order to ensure that your organisation benefits from this short seasonal period of high spending, there are several things that you need to get right. At a strategic level, product, pricing and distribution will all have been thought through well in advance of each seasonal period. We typically find that it's July/August time that retailers are starting to put more detailed thought into their in-store promotional activities, with a key one of those projects being their Christmas window display. 
How to plan your Christmas window displays?
The whole project can very broadly be broken down into 3 parts; Planning, Execution and Evaluation. The Execution part is undoubtedly the most exciting as that's where you get stuck into the creative design and delivery of your windows, but fail to get your planning right and it could all become unstuck, and fairly to get the evaluation right and your budgets next year could well be lower than you hoped for as the business, and finance departments in particular, aren't aware of the benefits that the windows generated.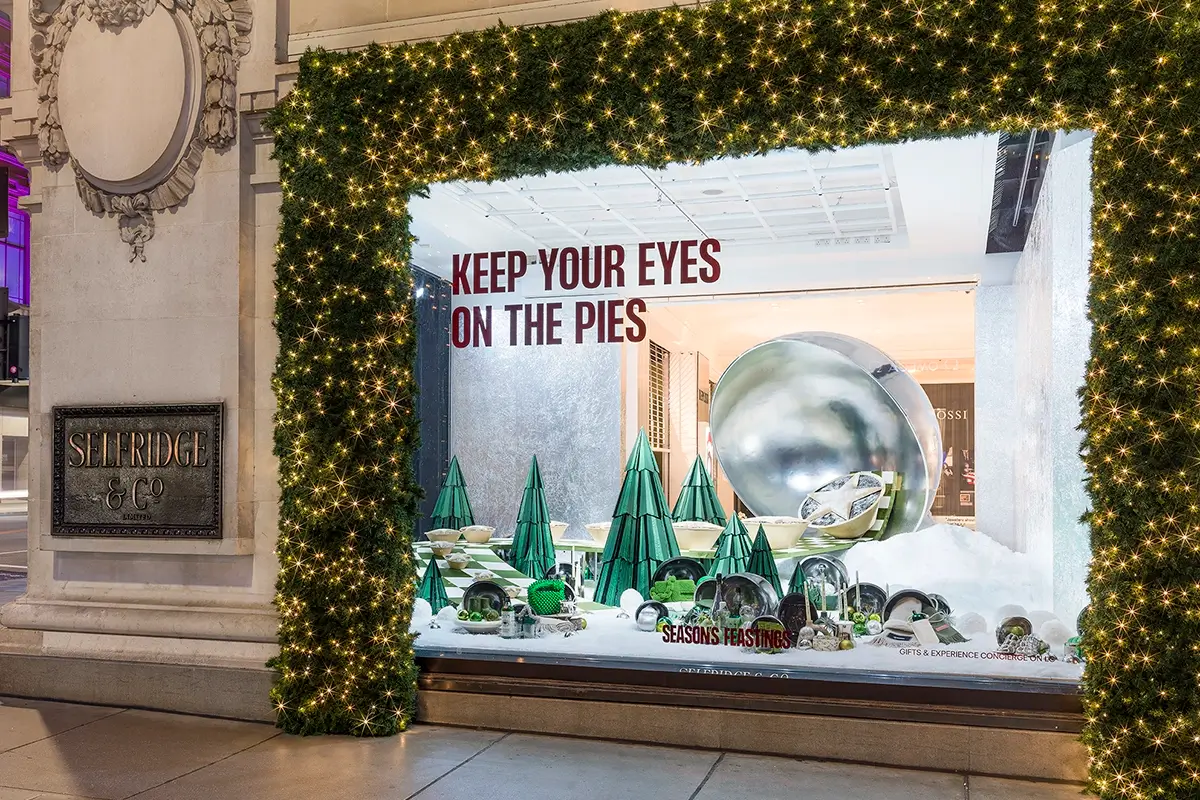 1. The Christmas Window Planning
Creating a cool Christmas window display requires creativity and attention to detail, but creating a display that's judged to be a business success once the snow has long-gone and the dust has settled, all starts with the planning.
Agree your objective –
Consider what actually the business is trying to achieve, and how your window design will support that objective, whether directly or indirectly. Verbatim evaluation such as "they look great" or "they're my favourite of all time" will be great in the wash-up but they alone may not convince finance to increase your budgets for next year. Hard fast objectives can be easier to start with. It could be that you're looking to increase footfall, generate sales or generate press coverage – the latter being a great one to measure if it's inbound links that matter to you. Once your objectives are agreed, it's time to move on to the exciting stuff.
Tell a Story –
Create a narrative or scene within your display to engage consumers. Showcase a heartwarming scene, a whimsical story, or a visually stunning tableau that sparks curiosity and emotions. Think of some of the most talked-about Christmas advertising campaigns of recent times – the common thread is that they tell a story.
Choose a Theme –
Plan the layout. Consider the size and shape of your windows, and plan the layout accordingly. Sketch out rough designs to visualise how different elements will fit together, and how the story will unfold as passers-by walk past the windows and (hopefully) into store where the story should continue.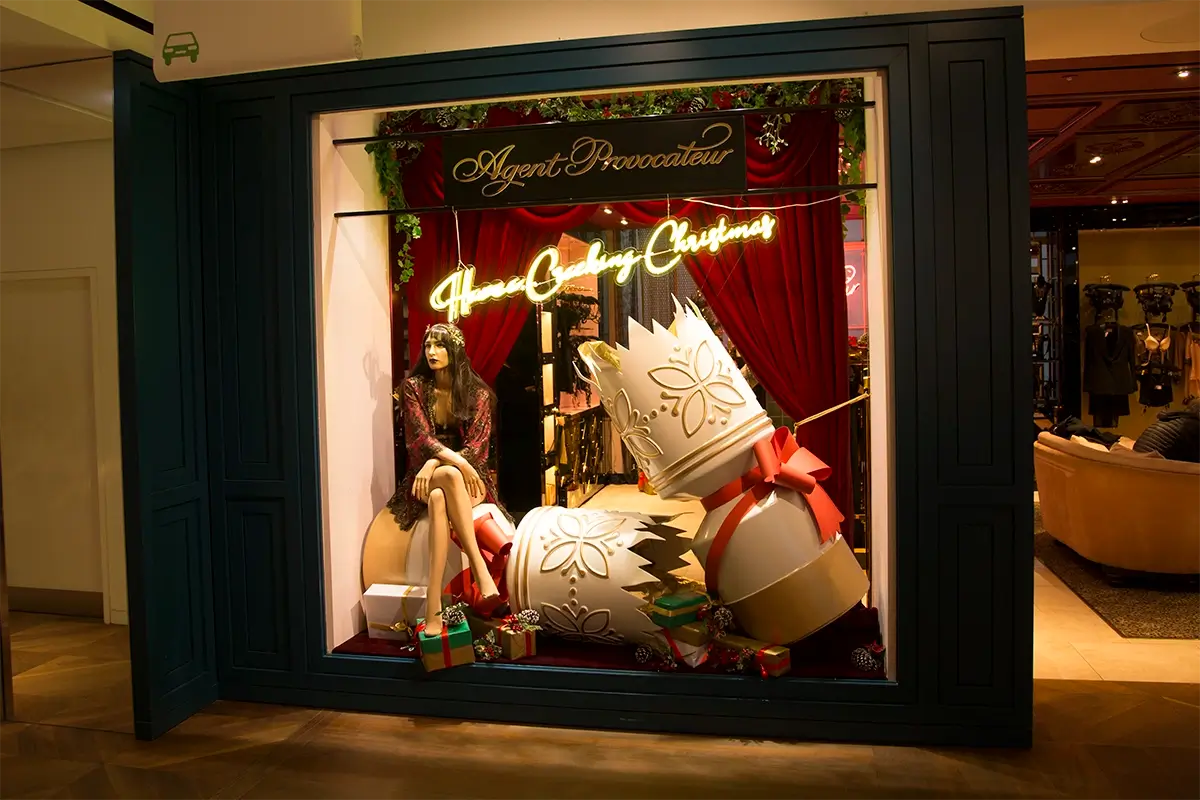 'Have a Cracking Christmas' window theme for Agent Provocateur, cleverly incorporating super-sized Christmas crackers, mannequins in product lingerie and Neon Ultra® text
Use Eye-Catching Visuals –
Incorporate vibrant colours, sparkling lights and captivating props to grab attention. Consider using oversized ornaments, snowflakes, garlands, or even unusual mannequins (perhaps a real mannequin on press launch?).
Engage Multiple Senses –
Appeal to more than just sight by adding scent, audio and touch elements. Use scented candles or diffusers to create a pleasant aroma and include textured props or interactive elements for visitors to engage with. Penhaligan's are a great example of a store that engages the sense of smell when passing by their stores. Lush too. And bakeries. And coffee shops. You get the drift.
Showcase Products –
Decide which products and brands you want to showcase. This could be because you want to drive sales of those specific items, it could be because you want your own brand to be associated with those brands, or it could be that those brands are likely to encourage consumers in-store, who will probable then purchase multiple other brands. Highlight your best-selling or most unique products in an appealing way. Arrange them strategically within the display to encourage customers to step inside and make a purchase.
2. The Execution of Festive Windows
Visual Hierarchy –
Create a visual hierarchy by placing larger or more prominent items at eye level or in the centre of the display. This helps draw attention and guides the viewer's gaze.
Window Decals and Stickers –
Add festive decals or stickers to the window itself. These can include snowflakes, stars, reindeer, or Santa Claus. Choose colours that stand out against your backdrop to create contrast.
Colours and Materials –
Select a colour scheme that matches your theme. Traditional Christmas colours like red, green, gold, and silver work well, but feel free to experiment. It may be that a lot of your competition have also used Christmas colours and so your display doesn't stand out. Or it may be that they've all gone with contemporary schemes, meaning traditional colours would have worked. Tricky right?! Incorporate different textures and materials to add depth and visual interest. For example, use fabric, glitter, or fake snow to create texture.
Lighting –
Christmas lights are essential to create a magical atmosphere. Use various types of lights, such as fairy lights, string lights, LED lights, neon signs, fairground lights or lightboxes to add sparkle and warmth to your display. Strategically place the lights to highlight key elements of your design. Animated signage can work really well as that's often then filmed and posted on socials.
Window Props –
Incorporate eye-catching props that complement your theme. For example, you could use oversized ornaments, snowflakes, Christmas trees, gift boxes, or figurines. Ensure that the props are visible and arranged in an appealing manner.
Movement and Animation –
Introduce movement to your display through mechanisms like rotating figurines, spinning mobiles, or animated projections. These elements can capture attention and add a dynamic element to your window.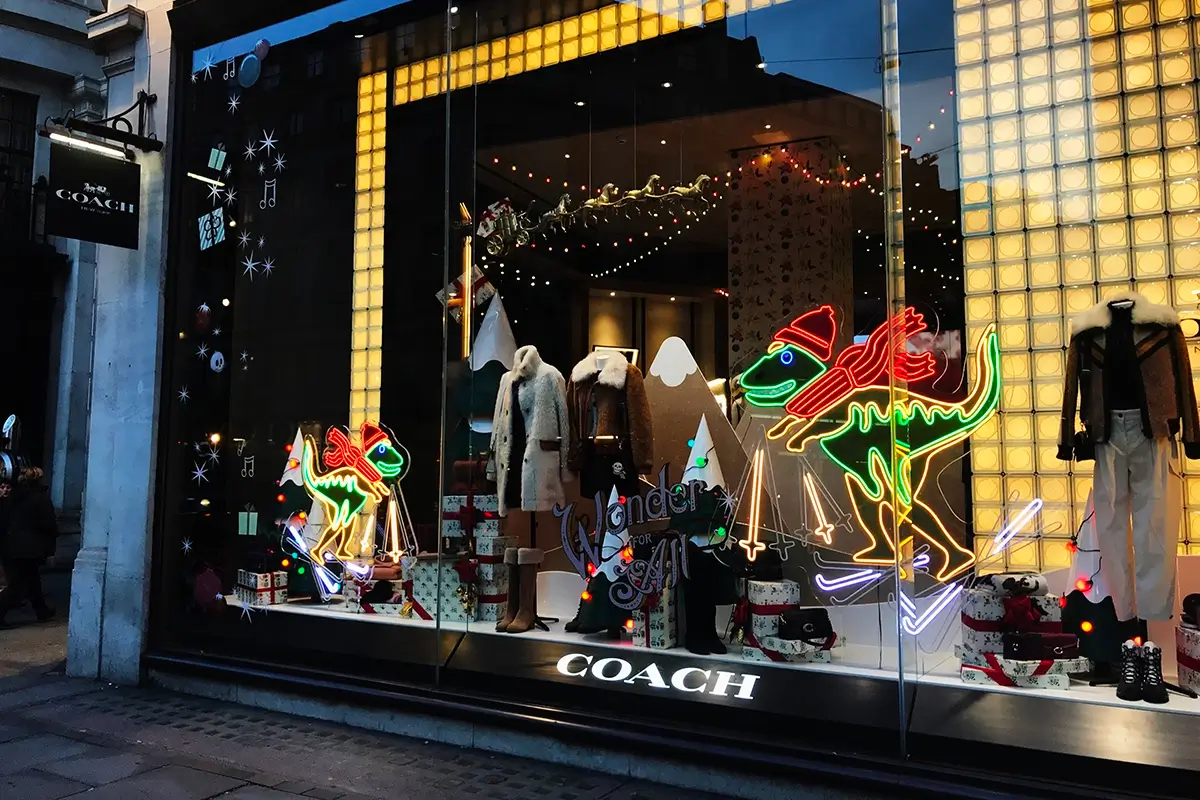 Animated Neon SuperFlex Dinosaurs in COACH Christmas Window, Regent Street, London
Display Signage –
Include retail signage that conveys a festive message and communicates your store's objectives. Make sure the text is easily readable and can't be misinterpreted as something else, and is aligned with the overall theme.
Reflect Your Brand – 
While embracing the holiday spirit, stay true to your brand identity. Incorporate your logo, colour scheme, or specific products that represent your brand, ensuring consistency with your overall marketing strategy. Your tone needs to be consistent with, or at least complimentary to, your brand's tone, even if you decide to deviate from it using humour for example.
Consider Social Media Shareability –
Create a display that is "Instagrammable" to encourage visitors to share pictures and videos on social media. Incorporate elements that are visually stunning or interactive, and provide signage or hashtags to promote online engagement.
Finishing Touches –
Pay attention to the details. Ensure all elements are properly secured, neatly arranged, and in good condition. Clean the window to maximise visibility and remove any distractions.
Regular Maintenance –
Throughout the holiday season, regularly check and maintain your display. Replace any burnt-out lights, fix any damages, and refresh the overall look if needed.
3. Evaluating your Christmas Windows
This doesn't need a lot of explanation, aside from a reminder to do it. Obviously reference everything back against your initial objectives but then add in any additional benefits that the windows generated. And be sure to share the success within your business as well as trade publications if appropriate.
Remember, the most important thing is to have fun and let your creativity shine. Experiment with different ideas, and don't be afraid to think outside the box to create a truly cool Christmas window display.
Remember, the goal is to create a captivating and inviting display that attracts attention, drives foot traffic, and generates excitement around your store during the holiday season. Tailor your approach to suit your target audience and adapt these tips to fit your specific brand and store concept.