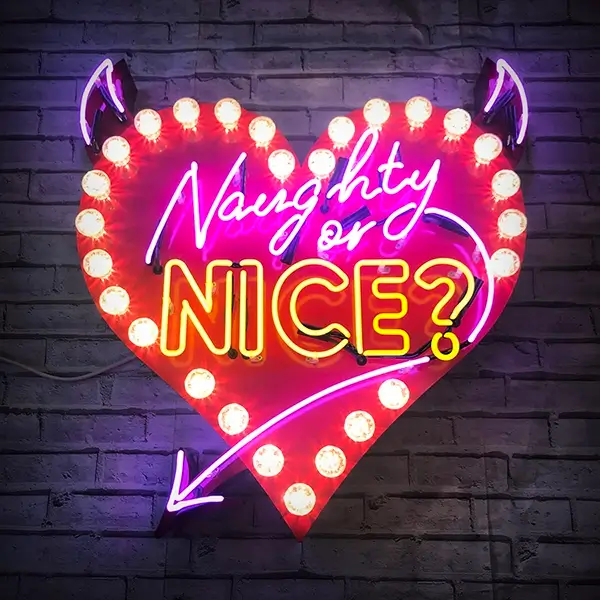 The Perfect Valentines Gift – Neon Hearts
Flowers – Lovely? Yes. Panic-bought from the local garage? Hopefully not. Imaginative? Absolutely not.
Chocolates – Delicious? Perhaps. Bit disappointing? Yes, more often than not. Bit of a cop-out? Most probably.
Neon Heart – VERY cool Valentines gift? Errr, yes! Unique? Certainly can be? Worth thinking about in a bit more detail? Absolutely! Hold onto your hats – we're taking a deep dive into how neon hearts are the perfect Valentines gift.

Neon SuperFlex (LED neon flex) hearts produced by Carousel Lights for Ann Summers
What sort of neon hearts are there?
Over ten years ago, 'neon' was the term used to describe a piece of glass that had been bent into shape, filled with either neon or argon gas, and connected to a transformer so that the tube illuminated. This is what we now refer to as traditional glass neon.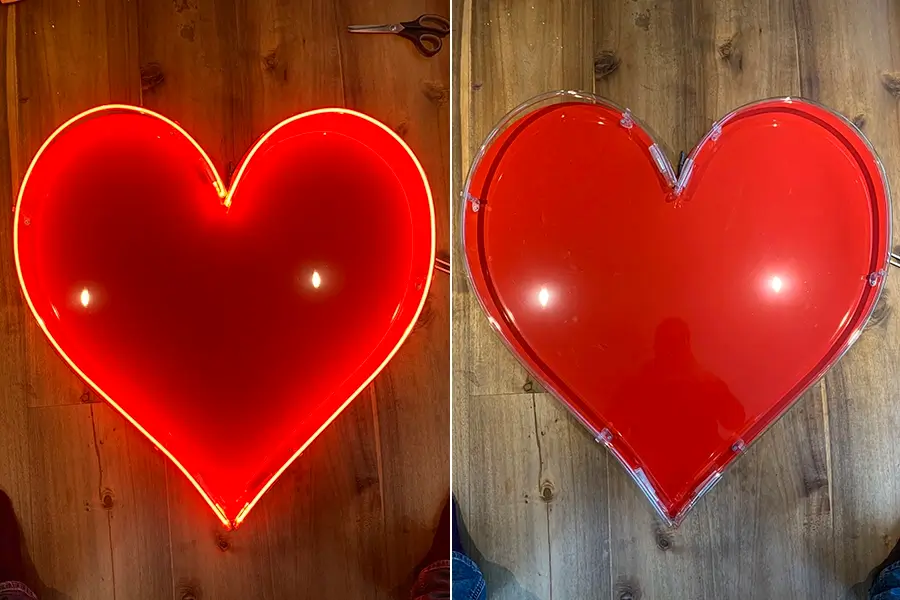 Traditional glass neon comprising 12mm glass tubes filled with Neon gas – shown on and off
More recently, the term 'neon' is being used more broadly to describe traditional glass neon, as well as different types of LED illumination that mimics the look of traditional glass neon.
For us, these products are Neon SuperFlex and Neon Ultra®.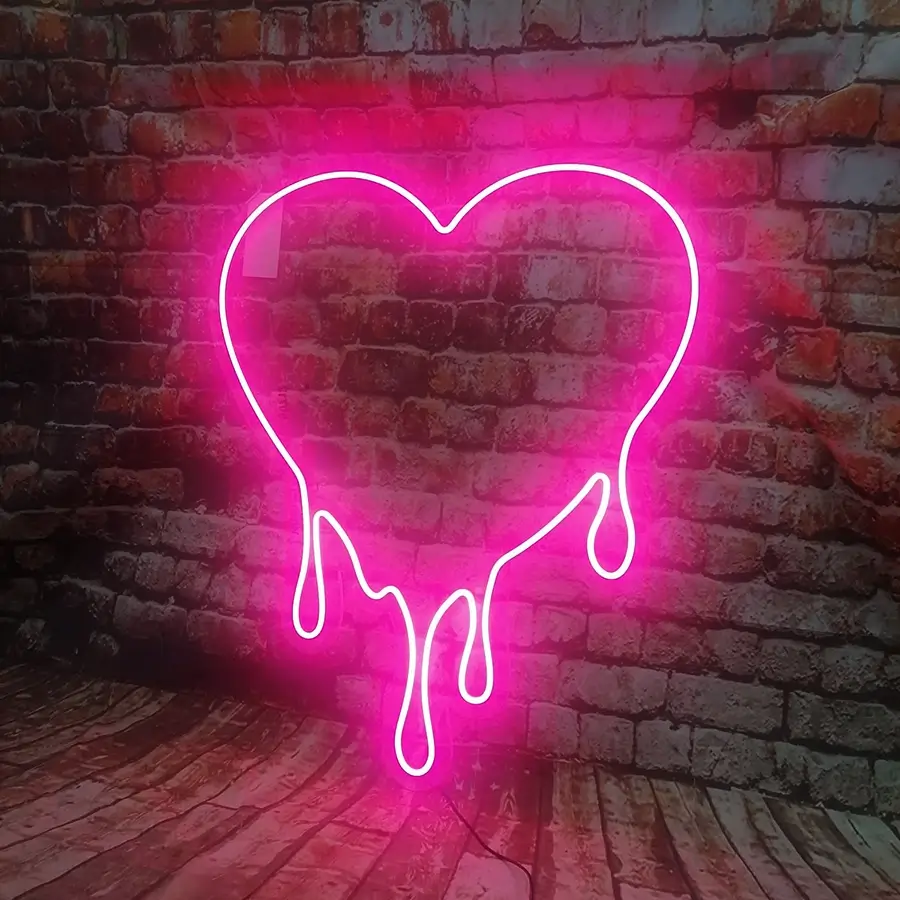 Neon SuperFlex dripping neon heart – available to buy in our shop for £295
But you don't really need to get caught up in all of that. All you need to think about is the exciting bit – and that's what do you want it to look like. Traditional glass neon makes a great valentines gift for someone who likes retro as it's often referred to as 'the real deal'. It is however more expensive, so LED neon can work better for other people as it's cheaper but it's also far more robust, making it perfect if you've got a busy house full of kids and animals!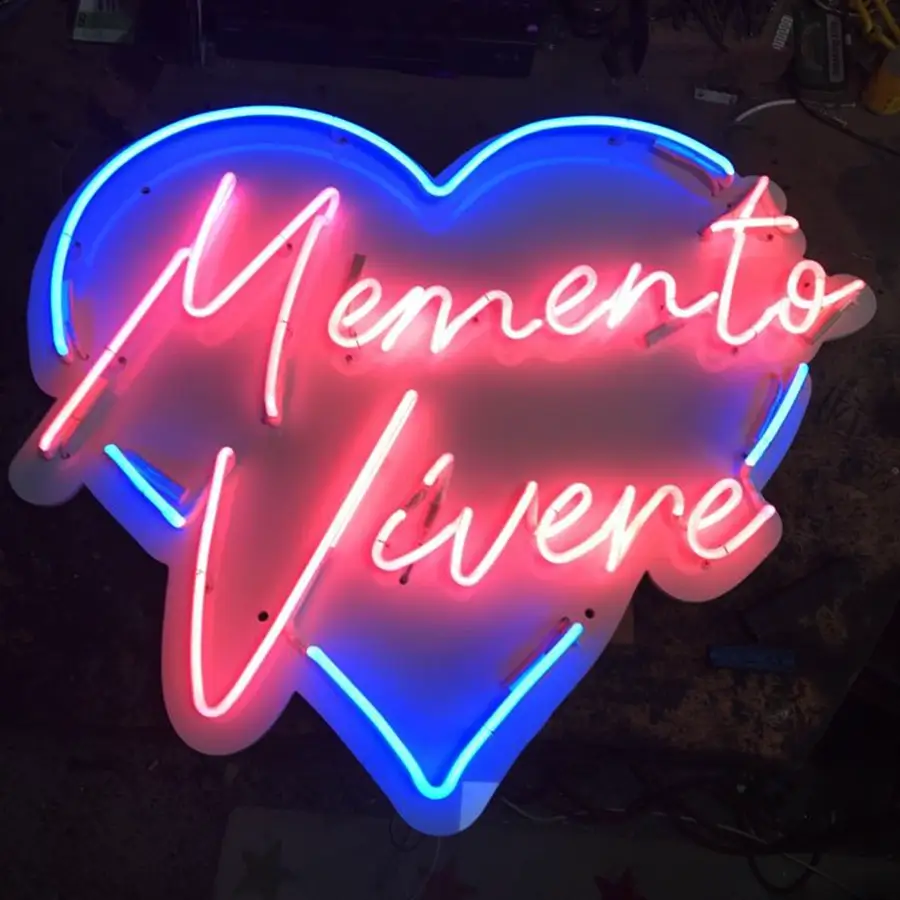 Traditional glass neon – menento vivere (remember to live) and neon heart
Where can my neon heart go?
Wherever you want, so long as it's within reach of a power supply – either a standard plug socket or a cable to be hardwired. You can put it in your kitchen, living room, shop window, restaurant window, hanging above the dancefloor in your nightclub. The neon world is your valentines oyster.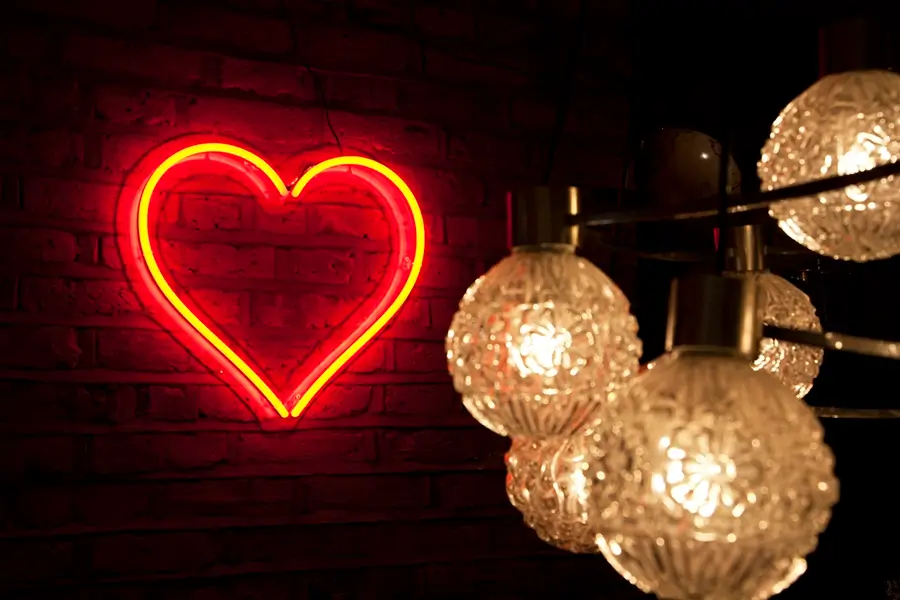 Neon Ultra® heart in residential living room
Where can you get a neon heart in the UK?
There are a lot of places offering neon hearts online, but be careful who you choose to buy yours from. Some are reputable but just like anything online, some aren't. Check their Google Reviews are all 5* like ours are (thank you). Check how long the business has been trading for, and check they've got a physical location. For what it's worth, we're based just outside London in Surrey, and are an award-winning family business that's been designing cool valentines hearts for over a decade.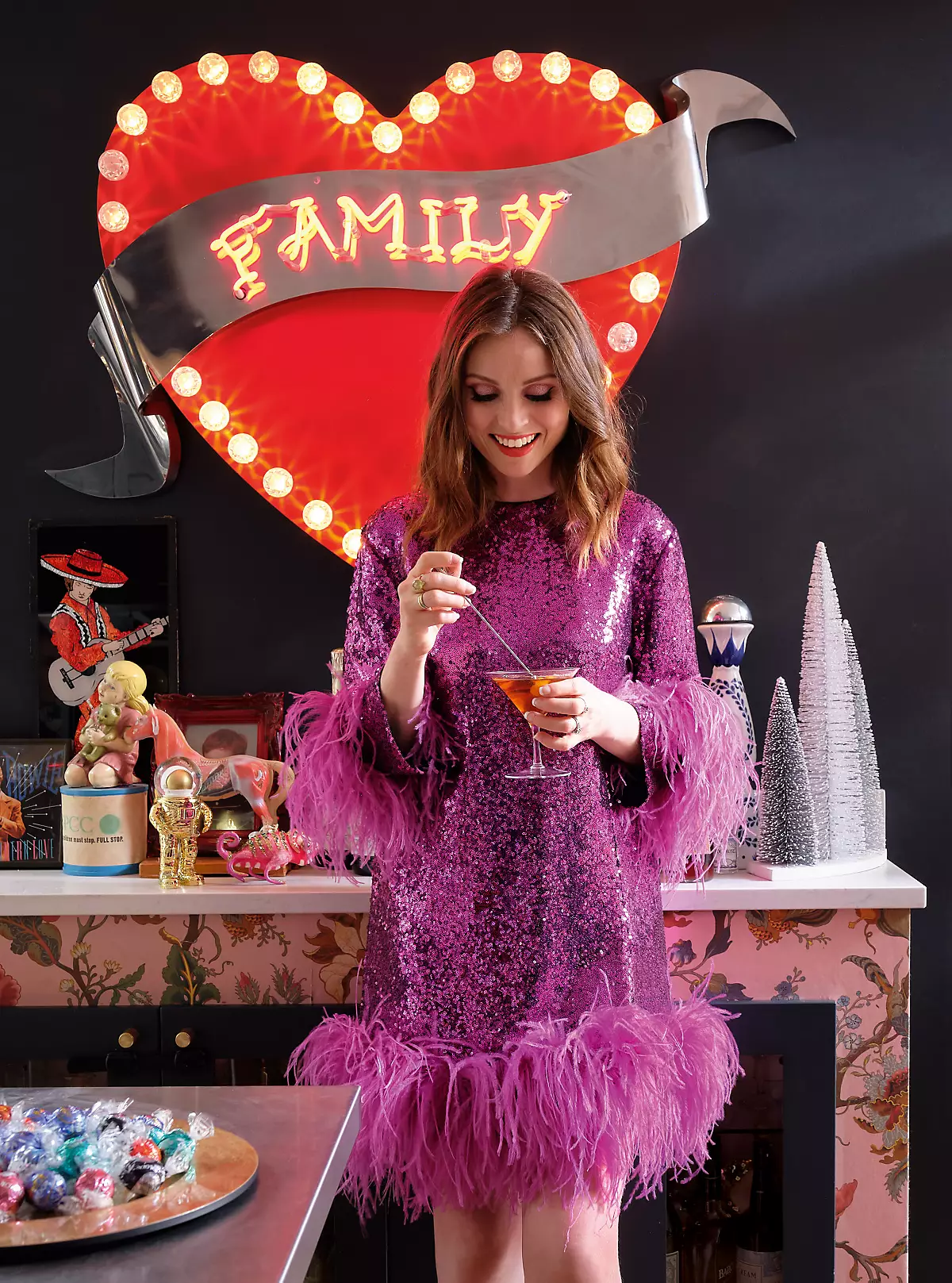 Sophie Ellis-Bextor in front of her family heart neon, commissioned from Carousel Lights
Other types of hearts for Valentines gifts
It's not just about neon don;'t you know. We've produce other hearts that are just as cool as valentines gifts. One of our most famous ones is an art deco inspired winged heart that uses original cabochons (the official word for fairground lights around the perimeter of the heart to bring it to life.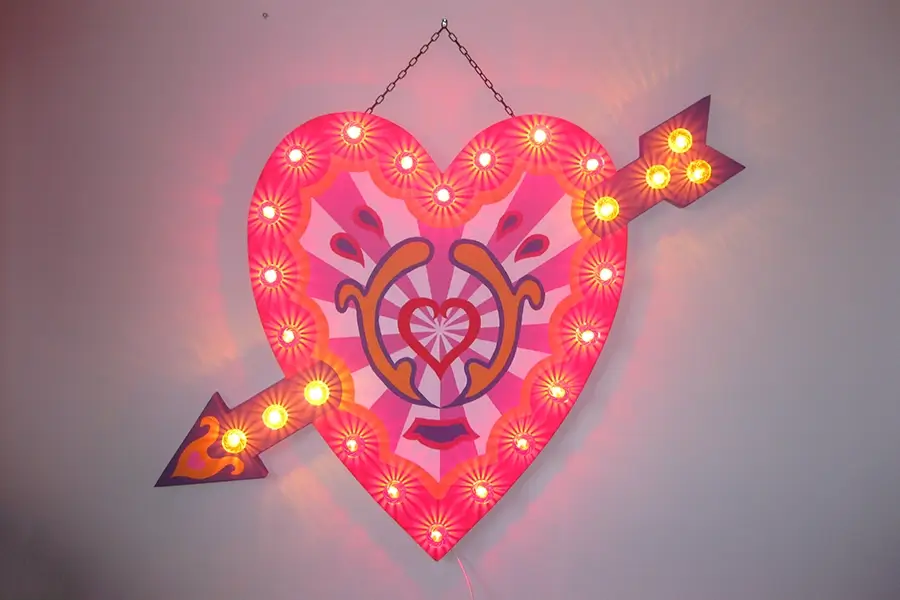 Hand-painted wooden heart with 60mm Red cabochons around perimeter

Art deco style valentines heart with original fairground lights around edge
Marry Me! The ultimate valentines gift surely?!
One of our brilliant customers comissioned this absolutely stunning traditional glass neon heart saying 'Marry Me'. A perfect keepsake too right? Want to do something similar? Call us!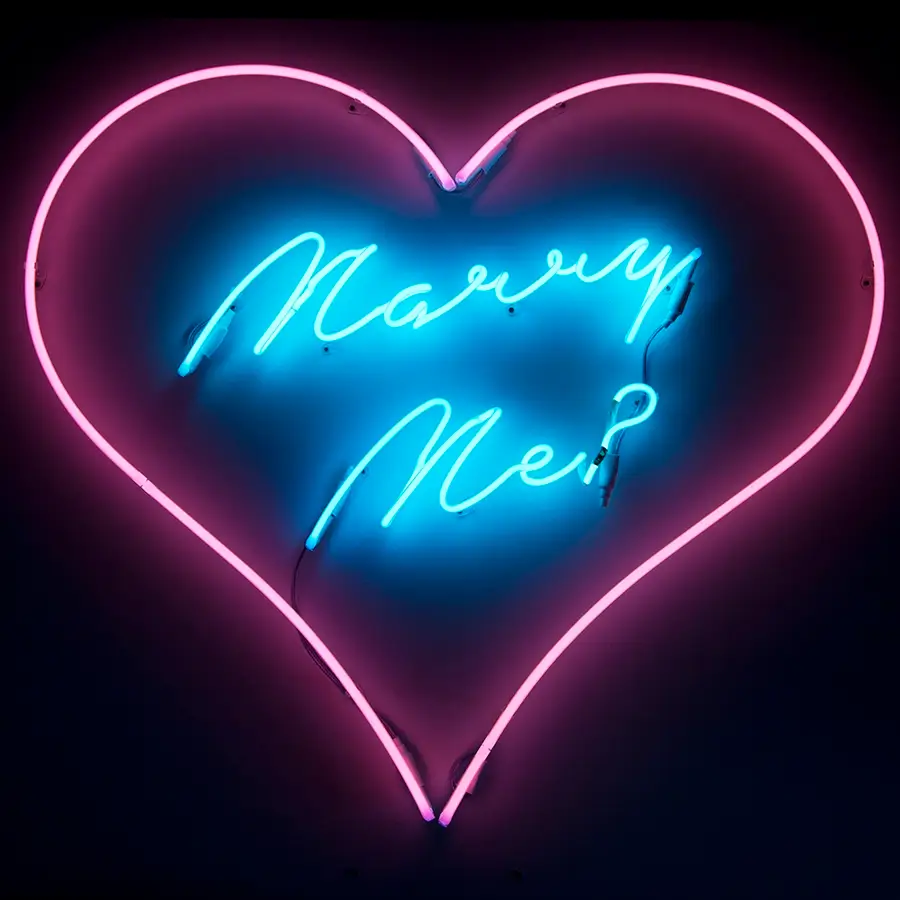 Why do we celebrate valentines day?
 This is a bit of an aside we know, but interesting nonetheless. Valentine's Day is celebrated to honour St. Valentine, a Christian martyr who lived during the Roman Empire. One popular legend suggests that St. Valentine was a priest who defied the Roman Emperor Claudius II's decree that young men should not marry, as he believed single men made better soldiers. St. Valentine continued to perform marriages for young lovers in secret, leading to his arrest and eventual execution on February 14.
Over time, Valentine's Day evolved into a celebration of love and affection. Today, it's a day when people express their love and appreciation for one another. This is often done through the exchange of cards, flowers, chocolates, and other gifts. Romantic dinners and gestures of affection are also common on this day. While the historical origins are rooted in Christian tradition, Valentine's Day has become a widely celebrated secular holiday, emphasising love and connection in various forms. It's an opportunity for people to celebrate and express their feelings for their romantic partners, friends, and family members.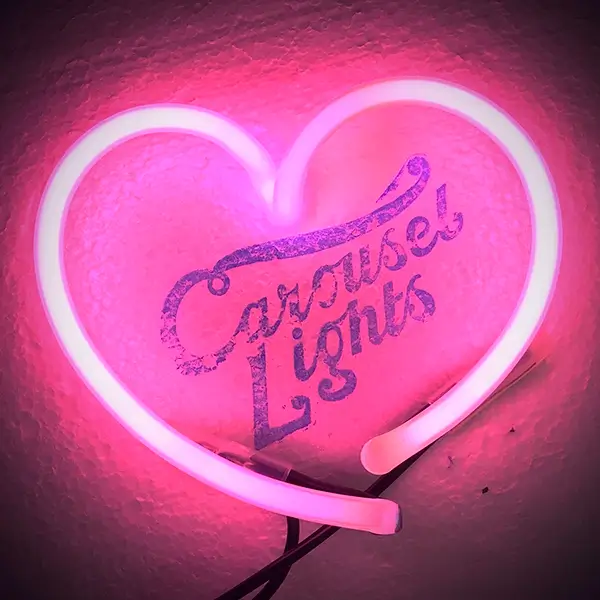 Using neon elements or decorations on Valentine's Day can be a creative and trendy way to add a modern and visually striking touch to the celebration. Neon lights, including those shaped like hearts or romantic messages, can contribute to a vibrant and stylish atmosphere. The bright and colourful glow of neon can create a visually appealing backdrop for romantic dinners, events, or even as part of home decor.
Neon lights are versatile and can be customised to fit various themes and styles. They are often associated with a contemporary and urban aesthetic. Whether it's in the form of a neon sign, wall art, or smaller decorative accents, incorporating neon can be a cool and unique way to enhance the ambiance of your Valentine's Day celebration.
Ultimately, the choice of decor depends on personal preferences and the overall theme or style you want for your celebration. If you find neon elements appealing and they align with the atmosphere you want to create, they can certainly be a cool addition to your Valentine's Day festivities.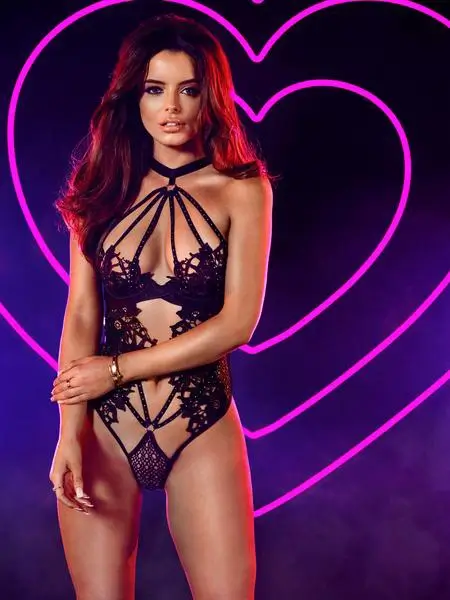 Maura Huggins x Ann Summers in front of Carousel Lights Neon SuperFlex concentric neon hearts