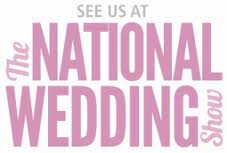 Press Release: 5 ways to make your wedding memorable
Carousel Lights aim to make weddings magical and memorable experiences, and are counting down the days to the National Wedding show at Earls Court.  With only 5 working days to go until the show opens on 27 September, Carousel Lights are marking it by highlighting 5 ways to make your wedding truly memorable.
1. Stand Out!
However memorable you'd like to think all those little touches are, weddings can be rather formulaic.  So if you really want to create an unforgettable day you've got to stand out from the crowd and do something different and creative.  The National Wedding Show is a great place to start with lots of new ideas being showcased.
2.  Use Statement Pieces
One or two big statement pieces are more memorable than lots of little touches.  Whilst the little things may seem more thought out, you might be the only one that notices them!  An unusual lighting feature or a themed art installation might be just the ticket.
3.  Get Personal
Your guests will likely be the people in the world that know you best, so make sure your wedding incorporates personalised elements that resonate with them.  References to your past and to shared experiences with friends and family will provide unforgettable moments.  A neon light created from a love one's handwriting could inject the day with a powerful and emotive touch.
4. Enjoy it!
We tend to remember enjoyable experiences more vividly, so despite all the preparations and stress, make sure you take the time to be mindful on the day, feel special and enjoy it!
5. Use Photographic Memory
Sometimes our memories need a little help after the event.  In fact our memories are often hugely influenced by the images we subsequently see.  Don't underestimate the power of photographs in forging strong memories.  A fantastic photographer and inspiring backdrops are hugely important when making sure the day is a memorable one.
Dan Lloyd, Founding Director of Carousel Lights comments "Everyone wants to remember their wedding day vividly and for their guests to have an unforgettable time.  Fantastic lighting is extraordinarily important in forging strong memories and getting incredible photos"
Carousel Lights designs and produces a range of vintage lights, all of which are inspired by iconic fairground rides from the past.   It is proud to be exhibiting at the The National Wedding Show in Earls Court on 27-29 September.
– END –
Notes to editors:
For more information please contact:
Dan Lloyd
07765 484442
Information on Carousel Lights
Carousel Lights Ltd designs and creates fairground inspired vintage lights. Incorporating the very best of British design and manufacturing, each style of light draws inspiration from a different iconic fairground ride and is available in various letters, numbers and shapes. The lights are perfectly suited to be used as dramatic wall-mounted features and are ideal for corporate events, weddings or to add something really unusual to your home. The company is run by its founders Ben Reynolds, Rebecca Reynolds and Dan Lloyd. For more information visit www.CarouselLights.com High resolution images are available on request.