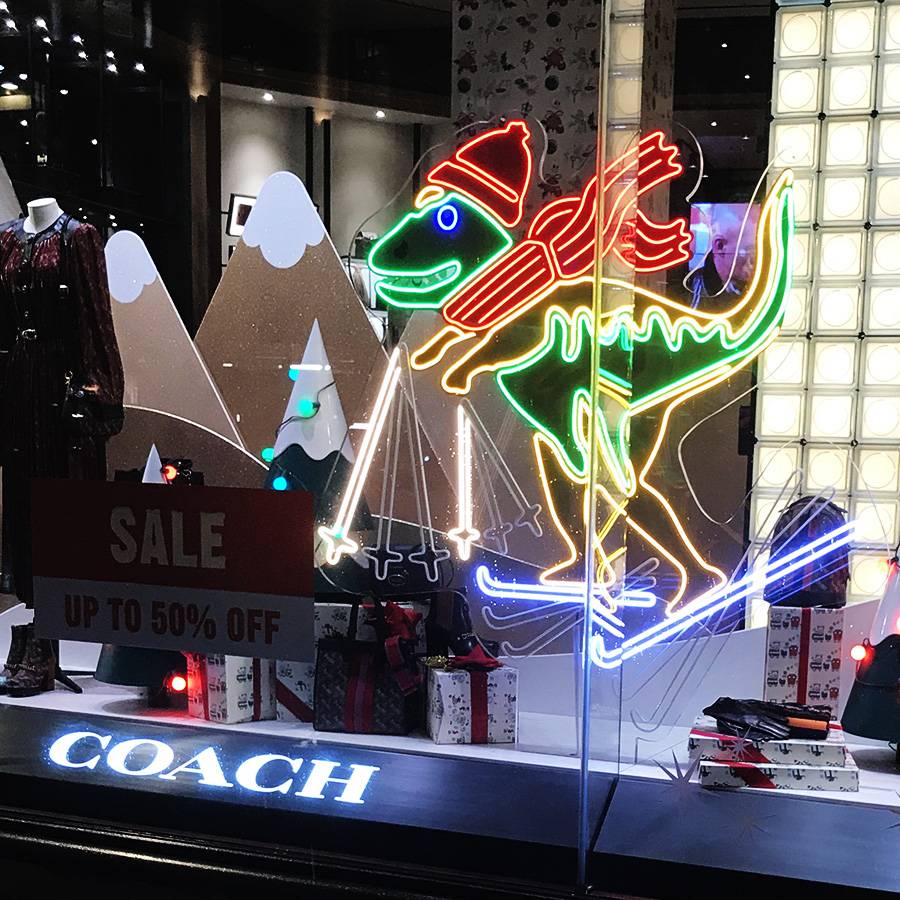 Why Animated Lighting should be integral to Retail Windows for Christmas 2022 – the Rise of the Reel
Here at Carousel HQ, we've designed and produced lights for the windows and interior retail spaces of some of the most famous High Street brands in the World. Many of which we can't talk about, but some of which we can – Harvey Nichols, Selfridges, New Balance and Harrods being amongst our revered client list.
When clients call us to ask if we can help with their Christmas Window displays, we're often asked similar questions – one of those being, what's 'in' at the moment when it comes to lighting and signage.
We thought we'd share what we think should be a HUGE way to get ahead of your competitors, and the best thing is, it's great value too: Animated lighting.
Briefly, before discussing the detail of Christmas animated lighting itself, we'll briefly touch on this – why do we think it will be big in Christmas 2022:
It's all about Reels. When it comes to Christmas Windows, a huge benefit of social media is that if you get it right, your customers will do a significant element of your marketing for you. Traditionally, a still photograph of a stand-out Christmas window could be expected to generate PR coverage in the form of a static photograph heading an article. That can still of course be the case, but with the dominance of socials, focus should now be given to them as a primary comms channel. It's evident that the accounts and posts being prioritised by the various algorithms are those contain reels – short video clips. Animated lighting couldn't be better suited to reels.
Attract attention. Now this one isn't new, but it's still as important as ever. If you're trying to get a greater share of footfall into your store this Christmas, one of your first hurdle for browsers is to attract their attention, and then in a matter of seconds, ensure that what they see makes them relate to you. Animated Christmas lighting can REALLY help with this.
Energy efficiency. With the combined effect of rising energy prices and net-zero, it's critically important that energy efficiency remains extremely low whilst still managing to achieve your business objectives. The lightsources used in animated Christmas window lighting schemes are all LED and use an incredibly low amount of energy.
So, having covered the reasons why animated lighting will be BIG in the VM & Display lighting industry for Christmas 2022, let's get into some detail of what animated lighting actually is, and how it's achieved.
What actually is animated lighting?
In very simple terms, it's anything that ISN'T a light that you just turn on and stays exactly the same. It's a light that once connected to power, runs through a sequence that changes the affect it gives.
What sort of light types can be animated?
Traditionally, incandescent lamps were well-suited to simple adjustments such as dimming in the home or more complex animation in a Television or Theatre environment. Technology, and the times, have since moved on, and pretty much any light that employs LEDs as it's core illumination source can now be animated.
 For us, that means Neon SuperFlex (which uses strips of LEDs in the form of tape), Neon Ultra® (also uses strips of LEDs), Fairground Lights (the cabochons lamps inside them are now fully adjustable LEDs) and even Lightboxes (the illumination source inside is LED modules).
Just imagine how jaw-droppingly eye-catching it could be to have a mix of all of those lights and signs, designed in shapes of seasonal designs, and animated and dimming and twinkling in unison. Beautiful.
What are the adjustable elements of animated retail window lighting?
There are actually only 4 key elements to consider, which when combined in different ways, can introduce an endless amount of effects:
On/Off – needs no explanation
Brightness – again, needs no explanation.
Colour – the RGB input into the light, dictating what colour the light illuminates
Time – the length of time attributed to a particular event. Eg, perhaps we want the light to turn on a very dim magenta Pink colour, and then take 7 seconds to increase brightness to it's full output.
How is the light animated?
The main thing to consider here, is all you need to think about is what you want – you can leave the rest to us. For example, you may want a window full of Neon-effect LED North Starts to twinkle in a nice Ice White colour, and every now and then, one of them flash a little brighter.
Behind the scenes, we'll then work out what the best way components to produce your flashing Christmas lights. But we also thought you may be interested in knowing more about them:
RGB Controller – simple off-the-shelf RGB controllers are the cheapest way of creating very simple animation schemes for small lighting schemes. Whether a simple flashing or chasing.
Chasing Unit – these can be used for animating fairground lights, and are exactly the same as used on fairground rides, so you can get an idea of what they do.
DMX – DXM controllers offer all-singing, all dancing capability. We discuss with you how exactly you want the sequence to work and we then pre-programme a DMX controller to create that exact effect for you. From your point of view, it's still extremely simple. All of the light installations are fixed into place, wired up to the transformer and DMX controller and then plugged in. Hey presto, your all-singing, all-dancing Christmas windows are up and running.
What are the main things you need to consider for animated Christmas Window lighting in 2022?
Length of the loop/sequence. Perhaps you want something short and snappy, say 5 seconds, for the sequence to complete, following which it will loop back to the beginning and keep going ad infinitum. It could even be an option for the sequence to last the time of a typical TikTok reel, so your windows are well suited to that as a marketing channel. A 10 second animated Christmas Window lighting sequence to match a s 10s Tik Tok reel – how cool and progressive would that be?!
Don't get bogged down in detail. All you need to think about is what you would like it to look like – we'll then advise the best way to achieve it.
No project is too big or small. We know it's a cliché but it's genuinely true.
Whatever stage your Christmas window, VM and display schemes are at, we can help. If you're changing your plan or have already developed it and want to add more standout through illuminated signage then we can help at any point.
I'm sold – give me some ideas!
Stacks of lightboxes. Perhaps your logo on, or seasonal phrases and graphics. Each internally illuminated with LEDs which flash alternately around the window and change colour.
Fairground lights running around the perimeter of your windows. Each dimming and flashing, alternating between Warm White and Ice White.
London skyline, including the famous London Eye, created from Neon Superflex and gently dimming and brightening. Stars twinkling around.
WINTER WONDERLAND text in bright red Neon Ultra®, sporadically flickering into Ice White and then back into bright red again.