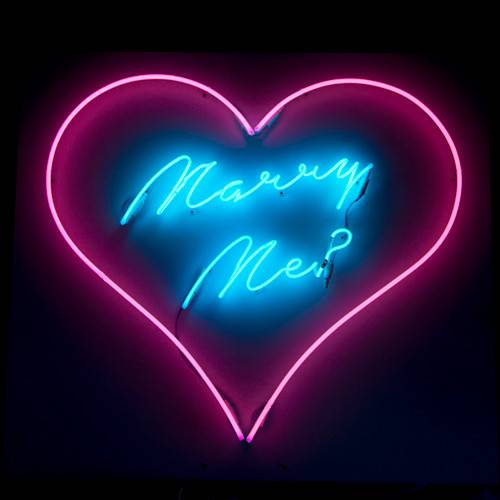 He said "Yes!"
We were thrilled to bits to have been asked to make a very special light recently. "Marry me?" It doesn't get much bigger or better than that does it?!
To make the moment dazzle and to create something precious to keep forever as a reminder of that day, our very stylish, discerning (and slightly nervous) customer quite rightly felt that the best way to do it was to do it in neon!
It was key that the light was personal to them and so we worked together to find the right font, colours and mount to perfectly suit the occasion and the light's eventual home.
The light consisted of "Marry me?" in turquoise neon with a hot-pink neon border. The neon was mounted onto white timber.
And it paid off because a very happy young lady reported back a few days later that:
"He said YES!!
How could he not with that light though!!
It is amazing, I had it on through the day and as it got darker the light just came alive if you know what I mean!!
I don't know where to start to thank you for all your help and effort."
Hooray!! Such brilliant news and we're super excited for you both. Congratulations and bring on the party!