'The Chrysalis Club' neon at Wilton's Music Hall
When Wilton's Music Hall approached Carousel Lights asking if we'd help them create "The Chrysalis Club" in neon, not only were we extremely excited but we were honoured too. This was a large high-profile piece of lighting that was set to take its place in history.
About Wilson's Music Hall
The first time you head down Grace's Alley on your way to Wilton's, it's easy to assume that you may have taken a wrong turn. "Is there actually a renowned music hall behind this façade?" but once you step inside you get a real sense that you're part of something really quite special.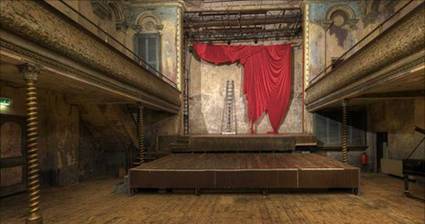 Originally a pleasant-sounding mix of alehouse, concert room and Mahogany Bar dating back to 1743, John Wilton bought the business in c.1850, enlarging the music room three years later and replacing it with a "Magnificent New Music Hall" in 1859. He added elaborate furnishings that back then, must have been modern and spectacular, but which have now dated into an even more astonishing feel of faded-glamour that takes you right back to the 1800's as soon as you step through the large timber door.
Wilton's Music Hall has been through many different era's of poverty and prosperity, struggling with financial debts in the early 2000's. Since 2004 Frances Mayhew, Managing & Artist Director, and her incredible team have dedicated an awful lot of time, effort and grit in order to bring this magnificent building back to it's deserved state.
The Chrysalis Club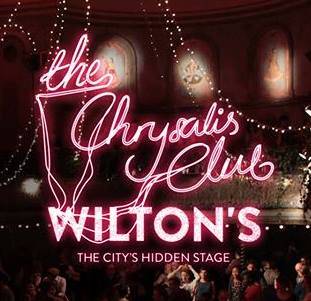 The building is currently undergoing a renovation programme to ensure its bones remaining standing for years to come.
Whilst this takes place, it's blood continues to circulate and keep the building warm and thriving though The Chrysalis Club – the brand that the main Music Hall has now taken on whilst it continues to host a full music and dance programme.
Wilton's approached us with a specific graphic device that they had already developed for "The Chrysalis Club".
Our challenge was to bring this beautiful 2D design to 3D life. No mean feat.
The neon
It was clear from the start that neon was going to be the name-of-the-game as they had cleverly locked up the "WILTON'S" logo to be the source of power that was illuminating "the Chrysalis Club", written in a cursive script.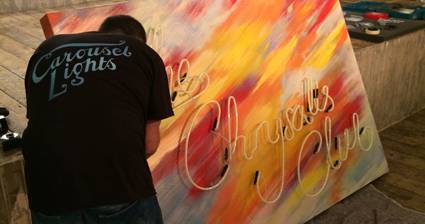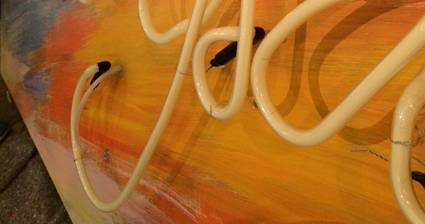 We worked on various iterations of the design, initially looking at illuminating both the Wilton's and Chrysalis Club elements but the final design consist of just 'the Chrysalis Club' in neon. The piece is hanging above the stage and will be in-situ for c.18 months so the decision was made to create the neon in antique white in order that it stands the test of time and sits in a complementary manner alongside any set design that will be used over that period.
We manufactured an aluminum mount for the neon in our workshop and then delivered this to the music hall. Wilton's own artist then painted the mount so as to match the rest of the set on which it's placed. The mount is a beautiful hand-painted piece that is reminiscent to me of a Lincolnshire sunrise.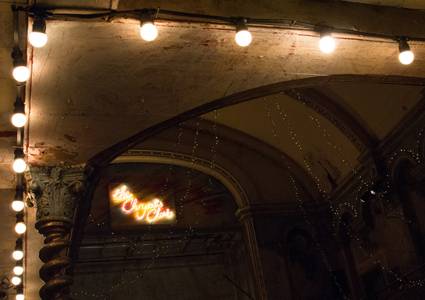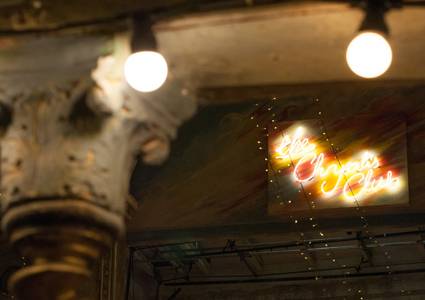 Whilst Wilton's were busy painting the mount we were busy bending the neon in our workshop. When both were complete we arrived on-site to mount the neon, power it up and place it onto the set. We delivered the neon in several pieces and then attached them to their perspex mounts that were attached to the mount on-site. The glass was then wired together and attached to the two transformers that were needed to power a light of this size.
After Frances flicked the switch and brought the neon to life, we adjusted the brightness to set it at the optimum level and the whole piece was then attached to the set and hoisted up into the rafters, sitting pride of place above the stage and hopefully taking it's small place in history in Wilton's archives.
We can't say how much we've loved working on this piece, and expect to be seeing the neon a lot over the next few months, mainly because we now know what an incredible range of events Wilton's Music Hall put on and we've now become a loyal customer of theirs!