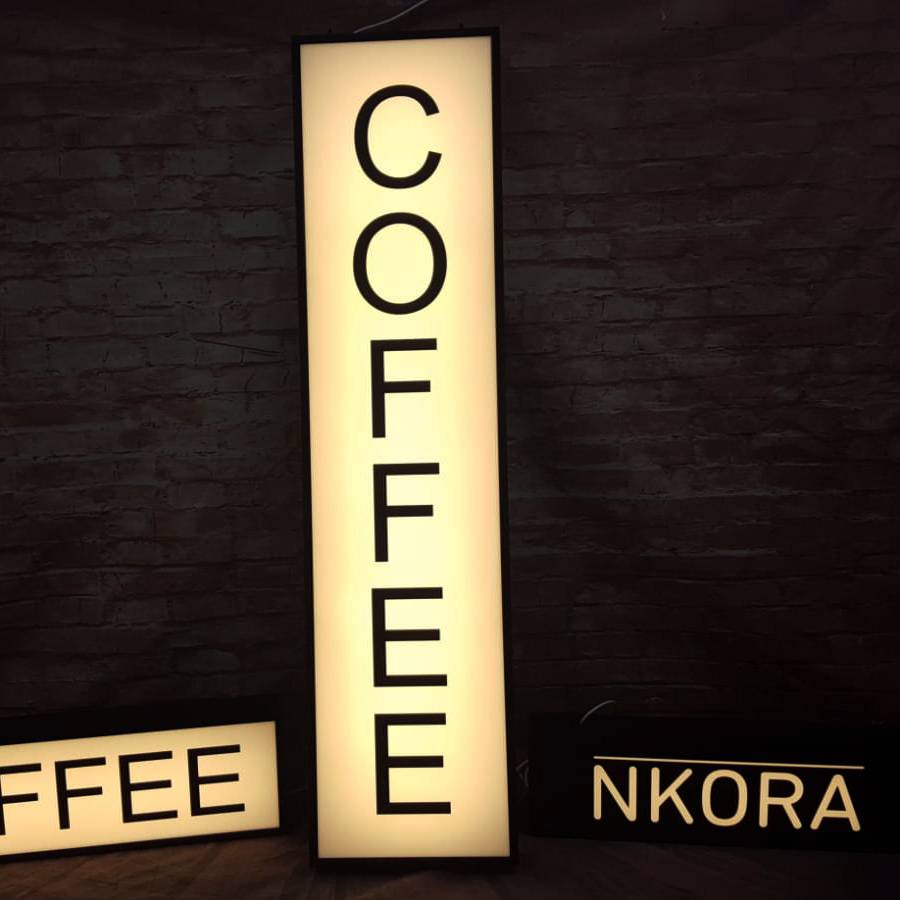 Lightboxes – Everything you need to know!
Lightboxes are a great option for decorative lighting within the broader signage family. Over the years we've been asked various questions about them so we thought it was high time we did a bit of a deep dive into lightboxes, sharing the information that we're often asked for.
What is a lightbox?
Ok, first things first. At a very basic level, a lightbox is some sort of box that illuminates from within. The box can take different shapes and the lightsource can vary, but at the end of the day the principle of it is very simple.
How are lightboxes made in the UK?
Most commonly, we start with extrusions (ie long pieces that we can cut down to size) of aluminium that we trim down to the correct size for your particular lightbox. The aluminium can then be powdercoated (which means professionally and uniformly painted) any standard RAL colour which means that we can match the vast majority of colours pretty closely. If you haven't worked with the RAL colour scheme before, it's very simple and we can guide you through the options available. It's the default European colour matching system which defines colours for paint.
Once we have the extruded powdercoated sections that will form the frame of your lightbox then they're assembled together for your chosen size.
LED illumination modules are then located inside the lightbox and connected to a transformer which enables the lightbox to plugged into the mains power supply (ie 240V) but reduces the voltage down to 24V which is the level required for the LEDs.
An opal acrylic face is then cut to shape, and it's at this point that the sign starts to resemble lightboxes that you're probably envisaging. The opal acrylic is an opaque material but one which enable the light from the LED's to shine through the face. Depending on the nature and complexity of your design, we will either print your graphic onto vinyl or we'll use using coloured vinyls (the option often used for Black & White designs)  to bring your design to life. This vinyl is then fixed to the face of the opal acrylic. There's then some final elements to the assembly such as the power lead and hanging system, and then the lightbox is finished, ready to be wrapped up and shipped straight to you.
An alternative to a vinyl-faced lightbox is for us to create what we call a 'push-through fret-cut' face. Although it sounds complicated, it's very simple. We create your lightbox face from aluminium, but then cut a shape out of the aluminium. We then push acrylic into this shape, ensuring that it sits proud of the aluminium, giving rhe face a 3D profile as opposed to it being flat. If required, we can put vinyl over the face of the pushed-through acrylic to add even more elements to the design. A benefit of this style of lightbox is that it has more profile to it, whilst also meaning that light emanates from the the pushed-through acrylic not only through the face but also through the edges.
Can Lightbox signs be made from just acrylic?
Yes they can. Whilst aluminium is our 'go-to' material due to it being robust and able to be painted such a broad range of colours, we can produce them from acrylic. It's worth bearing in mind that whilst the face will be fully illuminated (as opposed to having the lip around the edge of an aluminium box), the edges will illuminated a little darker – almost a shadow type effect – where the acrylic face is bonded to the acrylic sides, and less light filtrates through the acrylic.
We also need to ensure that the internal working of the lightbox, including LEDs/wiring/and transformer don't cast any unsightly shadows onto the lightbox panels, so we'll need to cover certain areas of the sides in blackout vinyl to ensure this doesn't happen.
What size lightboxes are available?
All of our lightboxes are custom-made so in theory we can produce any size, but that said there are restricting factors.
When you request a lightbox, we'll use our knowledge to suggest whether it's made Junior or Senior casing. The decision we make will be based on the best material for the size and format that you'd like.
For both Junior and Senior casings, the minimum length of any one side is 120mm which is very small and I don't think we've ever been asked to produce one that size. The lip on face of the Junior casing perimeter is 20mm, whereas it's 32mm on the Senior casing. The Junior lightbox dept is 117mm whilst the Senior depth is 175mm. The images below illustrate these sizes.
SENIOR casing – 32mm beed and 175mm deep
JUNIOR casing– 20mm beed and 117mm deep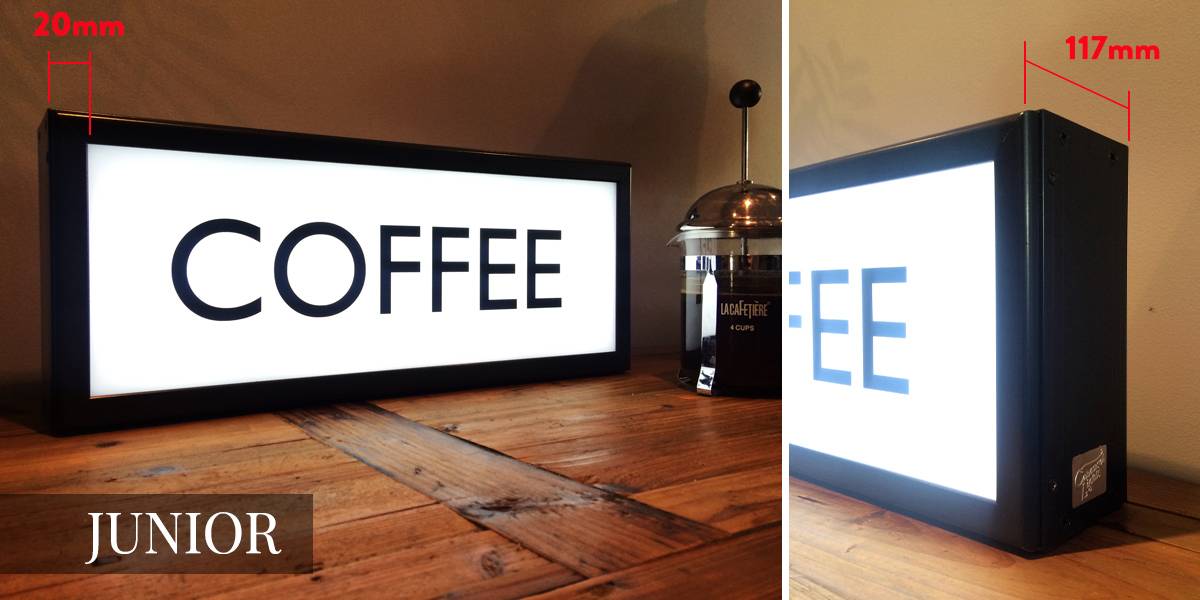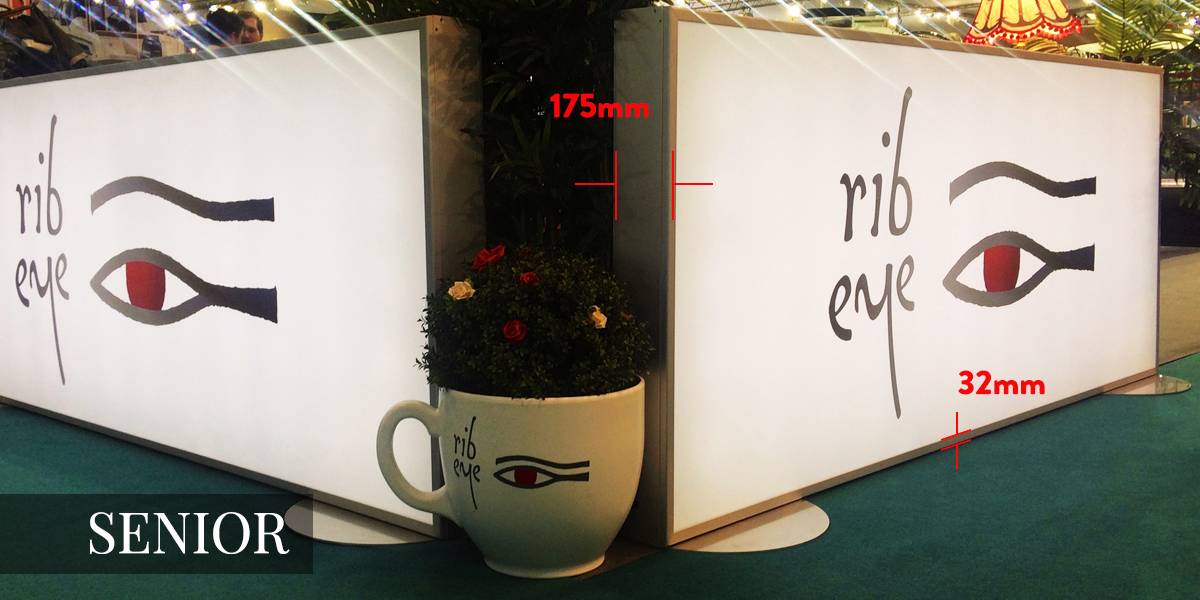 Can I have a custom-shaped lightbox?
Yes, absolutely you can. The vast majority of lightboxes are rectangular, square or round, partly due to the fact that they often fit best to their final location, and partly because we can use standard sections of extruded metal which means the costs are lower. As you can see in the photograph below, we were asked to design and produce a lightbox for Trebor Bassett in the shape of their iconic Jelly Babies. We produced a steel outer casing, powdercoated it black and then lay coloured vinyl over the face of an opal acrylic panel. The Jelly Babies were then illuminated inside, resulting in a Jelly Baby-shaped lightbox. Cool heh?!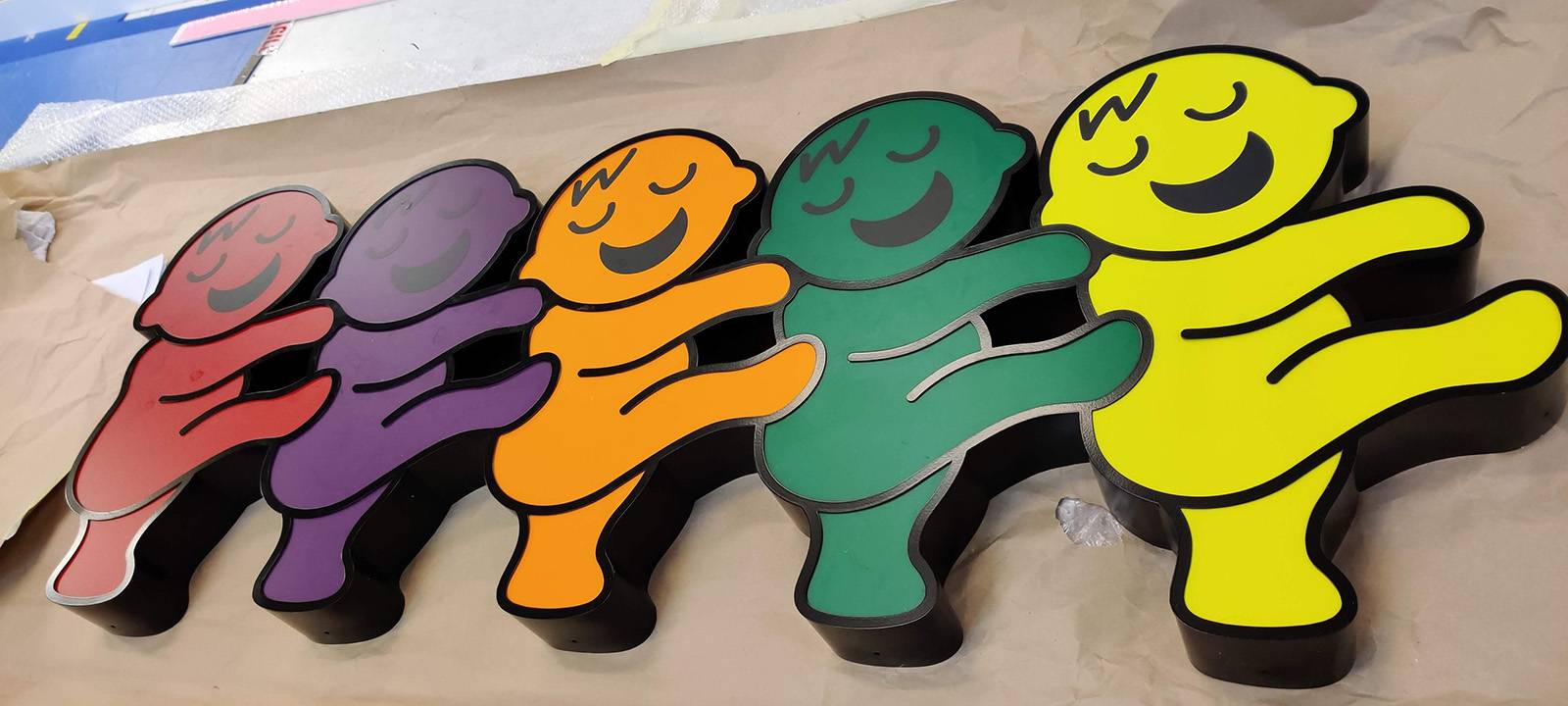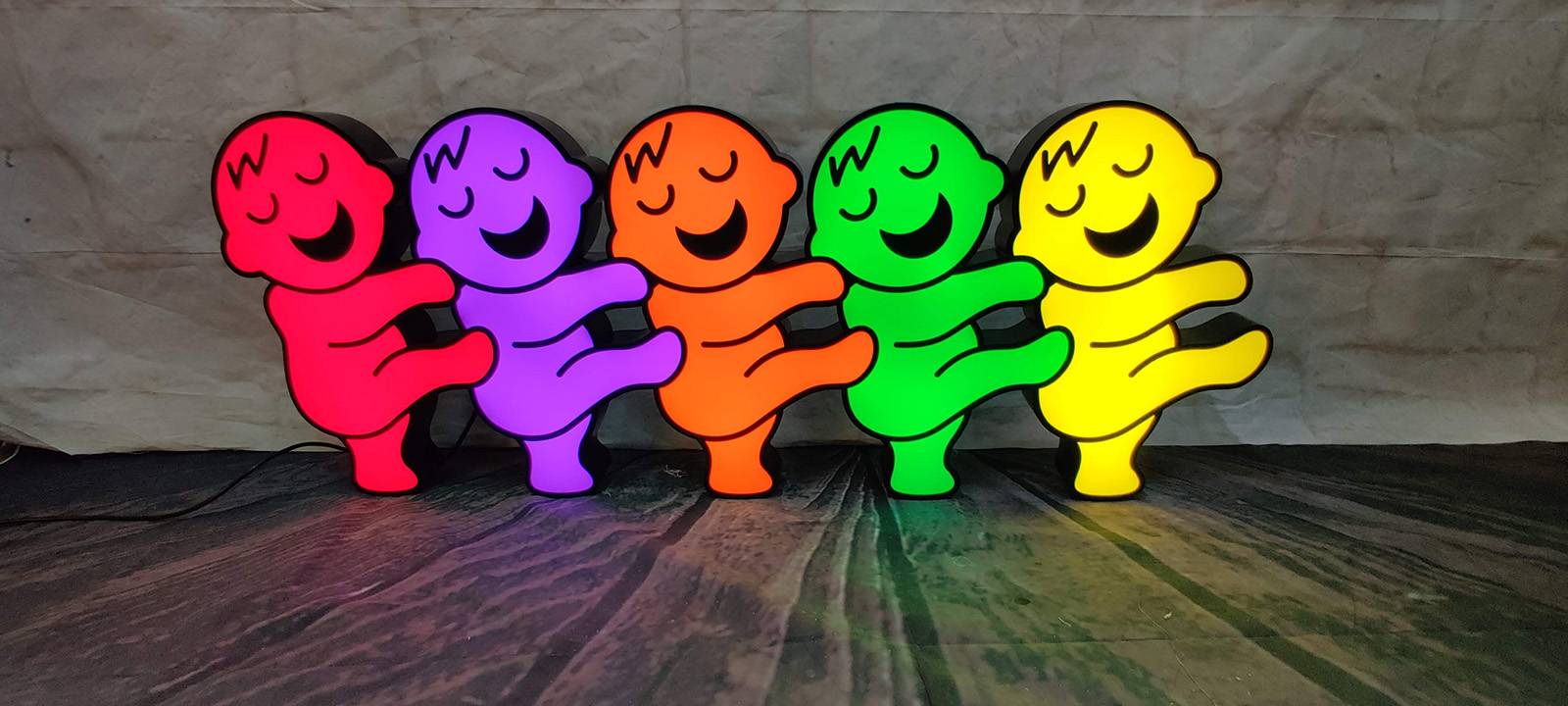 Can lightboxes free-stand, hang or fix to the wall?
Yes to all of the above. The most important thing is that you tell us how you'd like the lightbox to be from the outset, so we can supply it with the required parts.
Smaller lightboxes, if located out of reach, can self-stand fairly easily. As the size increases, or people are likely to touch them, then they need feet added or to be secured into place.
If you'd like to suspend your sign then we can place eyelets on the top edge. Often in this instance, it makes sense for the power cable to exit the sign close to one of the eyelets so that it can then be cable-tied to the the wire that's suspending the box.
The most common way to install a lightbox is to fix it to a wall. This can be done by any qualified electrician bu removing the acrylic face, screwing through the aluminium struts straight into the wall, securing it in place and then placing the acrylic face back onto the box.
How and when will my lightbox arrive?
All of our lightboxes are made here in the UK so we wrap them up safely and then ship them with a next-day courier. It will come out of its packaging ready to 'plug and play', unless it's more complicated, in which case we'll already have had that conversation with you about its installation.
We can turn lightboxes around extremely quickly – often a matter of days if necessary, just be sure to tell us your requirement date when ordering.
The factors that can typically make it slightly longer to produce your lightbox are: (i) bespoke fixing methods, (ii) particularly busy periods such as Autumn and (iii) paint colour (we hold black in stock but other colours are custom-painted).