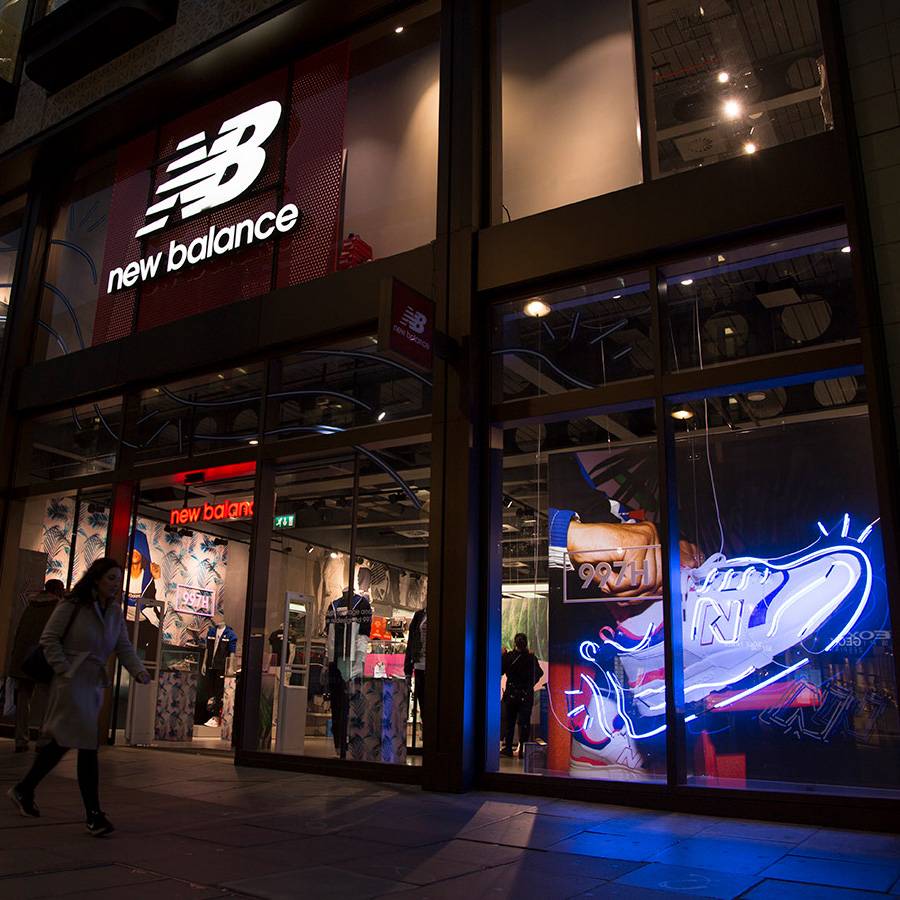 Case Study: New Balance Neon Trainer, Oxford Street
Carousel Lights was approached in January 2019 to help with the launch of New Balance's 997H trainer. Their flagship store on Oxford Street was to be changed overnight on 1st February, with a large graphic of the 997H trainer taking centre-stage with neon highlighting the design – that's where Carousel Lights came in.
Timings were tight, but with all of our products designed and produced in the UK, we were able to meet the tight deadlines.
Working with New Balance's appointed agency, we worked through the design and proposed ideas regarding not only the best way for the neon to be produced for the large shop window, but equally important, working through the devil in the detail of the install in order to ensure everything went as smoothly as possible on the installation date.
We produce a lot of neon for visual merchandising and display but every project is different, so no detail is taken as given. We produced two large sections of clear 10mm acrylic, each measuring W1463mm x H2795mm, with the 997H logo bonded to the face in 5mm White acrylic. A mirror image of the 997H logo was cut from 2mm acrylic and bonded to the reverse of the clear panels so that it had a clean sleek finish with no glue visible.
Meanwhile, the mirror image templates had been printed at 100% scale and were being used to produce the hand-bent neon. The front-on templates were fixed to the face of the acrylic panels and mounting points were pre-drilled in order to minimise time on-site during the install. Two Site transformers were used to illuminate all 9 neon sections, so with all of the individual elements all ready to go, everything was ready for the install.
On-site, the large acrylic panels were suspended from the ceiling first, using aircraft wire and trapeze fittings. The bottom of the acrylic touched the floor but all weight was being taken by the suspension. With some large sections of neon glass spanning both panels, four 100x50mm clear acrylic plates were used to join the two panels together to ensure there was no lateral movement.
The neon mounts were then positioned on the glass in the pre-drilled mounting holes, and each section of neon glass was then fixed to the panel. The two neon transformers were located in the ceiling and the final stage of the process was to connect all of the sections together with specialist neon HT cable and then connect the neon glass to the neon transformers.
Once turned on, the neon illuminates and warms up. This then leads to an even colour distribution across the neon glass, and means the brightness throughout each tube is even and consistent also.
The result is a stunning neon trainer for the launch of the New Balance 997H in the window of their flagship store on Oxford Street.